SaaS-based companies need electrifying ways to market themselves and surpass their competitors. This can be done by opting for the best tools for SaaS businesses. Other than marketing themselves, tools for SaaS businesses allow companies to improve efficiency and enhance their response time.
Marketing SaaS companies with proper tools can take years to enter the market competition and gain people's trust. Tools for SaaS businesses allow such companies to skip the initial stages and become seen. Doing this can save a lot of money, resources, and time.
1: Zapier
Zapier made it first in the list of being one of the best tools for SaaS businesses. This is a fully automated tool for SaaS businesses that connect different parts of your business. This will help fill the gap between managers and employees and build better team communication. You can connect various apps with Zapier for ease while doing business.
With Zapier, you can manage your sales funnel and handle emails, customers, lead generations, and much more. With this SaaS tool, you can create automated and customized workflows. This platform is best for managing a number of teams and employees
Features
Data security
Customer support
Shared workspaces
Business transformation
Lead management
Data management
Sales operations
Marketing
Customer communications
IT services
Top Features
1: Marketing
This SaaS tool makes sure to market your business with complete automation. With Zapier, you don't have to do much – you have to automate all your marketing operations at once. After this, you just have to sit back and work on different modules.
2: IT Services
This platform promises to provide reliable and secure IT services. You don't have to worry about unforeseen errors because Zapier takes care of them while you focus on other things. With this SaaS tool, you can streamline your business operations that lets you save time.
3: Lead Management
Companies get hundreds of leads, and it can make your head hazy. With the best tools for SaaS businesses, like Zapier, you can benefit from lead management. In this way, you can focus on the core of your sales operations.
Pricing
You can opt for Zapier in the following pricing plans.
$0 for free
$19.99 for starters
$49 for professionals
$399 for teams
$799 for companies
Conclusion
Zapier will most probably stay on the top because it provides the facility of connecting with 5000+ different apps. It also offers Zap templates for you to do more and fast. The best thing is that you can add tailored conditions with automation. Lastly, it is very easy to use.
2: Time Doctor
Employees have a hard time managing their tasks, and managers have a tough time tracking the work. To put an end to all worries, you can opt for Time Doctor. It has every quality to prove to be one of the best tools for SaaS businesses. As evident from the name, this SaaS tool allows managers, employees, and organizations to keep track of time.
This might be the only tool for SaaS businesses that shows more significant insights for increasing employee's productivity in different ways. With the benefit, the employees can know where they need improvement. Time Doctor also gives the advantage to managers to finalize payroll with accurate time tracking integration.
Features
Easy setup and support
Client login access
Offline time tracking
Distractions alert
Productivity measures
Summary reports
Project management
Project budgeting
Time tracking
Employee monitoring
Top Features
1: Employee Monitoring
This feature allows employees to stay on task. Since the employees will have an idea that bosses are watching, they can complete their work before time and relax the rest of the day. It is all not so bad; this feature also notifies the employee when to stop working and get a break.
2: Online Timesheets and Payrolls
This feature is best for managers because they can see the number of hours worked by the employee. In this way, they can make payrolls accordingly. Companies can benefit from this as this can be single-handedly done – there will be no need to hire accountants for this job.
3: Productivity Measures
It is seen in many reviews that with Time Doctor, employees' productivity is increased by 22%. It checks the engagement and attendance of employees. Employees can see themselves near to their goal, which allows them to work better than before.
Pricing
You can get Time Doctor via following pricing plans.
$70 for basic
$100 for standard
$200 for premium
Conclusion
Different data points and stats show that the market volume of SaaS will grow by 344 billion US dollars by 2027. This means SaaS applications and tools will become the next big thing in assisting businesses to achieve more.
We think Time Doctor could soon become one of the most demanded tools for SaaS businesses. It allows companies to see the capabilities and capacities of their employees. It also takes screenshots of employees' work and monitors the website and app that they use.
3: Bitrix24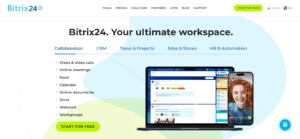 Bitrix24 is suitable for small SaaS businesses and new startups because you can find almost any feature and tool. It provides the best tools for SaaS businesses that can benefit different departments like CRM, HR, projects, tasks, team collaboration, sites, and stores. The major advantage is that it provides the facility of easily migrating your data from systems. 
This platform has the most used and famous integrated apps for you to do more. People love Bitrix24 because you can also get it on the premises. In this way, you can add as many third-party integrations as you want. On-premise SaaS tools allow you to make your business more scalable.
Features
Marketing services
HR services
Productivity
Communications
Management and leadership
Website builder
CRM
Tasks and projects
Project management
Customer services
Top Features
1: Marketing Services
With Bitrix24 marketing services, you get the power to automate, collaborate and measure your sales funnel. They make sure to get your company on autopilot marketing mode. With the benefit, you will see an increase in conversion rate and see more leads coming in.
2: HR Services
The best HR can bring out the greatest in every employee. It is the responsibility of the HR department to make sure that their employees are not only satisfied but also happy. Bitrix24 suggests solutions that will make your HR department more efficient and transparent at the same time.
3: Project Management
Increase your team's speed and productivity with added efficiency. With this feature, you will be able to see the progress level of your project based on cost tracking, time tracking, and seeing employees' efforts and contributions.
Pricing
You can get Bitrix24 with the following pricing plans.
$0 for free
$5 for basic
$50 for standard
$100 for professional
Conclusion
Bitrix24 has everything it takes to become the provider of the best tools for SaaS businesses. Small businesses love Bitrix24 because they have the best services for video calls, conferencing, and chats, and they also track work time as well. You can also design workflow automation for your employees – making it the best management platform.
4: Salesforce
SaaS companies want to see business growth by remaining under a budget. This can become a reality when companies opt for the best tools for SaaS businesses. Salesforce can assist you in completing this mission – the company provides the best SaaS SEO tools and offers the best customer experience. They offer solutions that not only grow your business but also grow your customer base.
Salesforce is an all-in-one CRM solution provider that focuses on bridging the gap between customers and businesses. With these provided tools for SaaS businesses, you get to manage customers according to their data. Such practices allow companies to get to their goals faster than before. Salesforce confers Customer 360, a cloud-based solution that orbits your customer data management.
Features
Marketing services
Ecommerce services
Case management
Sales services
Tableau
Mulesoft
Slack
App builders
Data virtualization
Data management
Top Features
1: Customer 360
With this SaaS tool, you can unify your teams to work on a single project by providing them with managed customer data. When SaaS companies use Customer 360, they are able to plan better marketing strategies, offer better services, and become more aware of their customers.
2: Marketing Services
Best tools for SaaS businesses should have the feature of automating customer engagements. With Salesforce's marketing automation services, you can optimize different marketing campaigns. You also get the benefit of seeing the latest marketing insights to develop better advertising plans.
3: Ecommerce Services
Among the best tools for SaaS businesses, this one can benefit e-commerce businesses in every way. This is a great tool that will allow e-commerce businesses to get more visitors and increase sales with reduced costs. This tool will automate your e-commerce business to boost and accelerate sales.
Pricing
You can use Salesforce tools for SaaS business via following pricing plans.
$25 for essentials
$75 for professional
$150 for enterprise
$300 for unlimited
Conclusion
If your company is looking to increase margins, profits, and ROIs, then there is a definite need for a cluster of the best tools for SaaS businesses. Salesforce provides different SaaS tools for businesses that will explode their charts with surpluses.
5: Slack
Every company is aware of Slack, and that is why it is considered the best among many tools for SaaS businesses. When there is good communication between teams and decision-makers of the organization, companies can achieve more goals in less time. Slack is a headquarters for collaboration and messaging.
The company's senior management can address each and every person in the company and see their responses. Whether your team is small or large, Slack makes it easy for everyone to stay in touch and updated. This SaaS tool is used by 85% of companies that work with remote teams.
Features
Task automation
Workflow builder
Video calls
Voice calls
Channels
Slack connect
Integrations
Security
Digital HQ
Gifs and emojis
Top Features
1: File Sharing
Every file counts when companies are near their annual targets and goals. Slack provides the feature of sharing all kinds of files. You can even share large files. The top-secret files will always remain secure and safe.
2: Channels
You can sort employees of different departments on Slack with the channels feature. All you have to do is create a specific channel and start sharing important work details. Employees also have the access to make channels with whomever they want.
3: Slack Connect
You don't need to download a different app to communicate with your vendors and partners. You can connect with anyone outside your company with Slack Connect. This allows you to make more associations and connections.
Pricing
$0 fo free
$7.25 for pro
$12.50 for business
Contact Slack to get price plan for enterprise grid
Conclusion
Slack is best for businesses that have to do attentive project management. This SaaS tool is also used by different companies focusing on sales. Most HR departments use Slack to have direct communication with teams. Almost all industries and business sectors can make use of it.
6. Zendesk
Communicating with clients has become easier and better with Zendesk. Zendesk is amidst the ultimate tools for SaaS businesses. With this platform, you can sync your business by empowering teams to connect with customers directly. An upset customer doesn't have to opt for your competitor if your teams connect in the best way. This is possible with Zendesk. 
Zendesk allows you to give the best customer support services anytime, anywhere, and over any device or network. Moreover, you can customize a special customer's experience to make them feel extra exceptional. The following features of Zendesk will make you opt for it.
Features
Ticketing systems
Messaging and live chats
Help center
Community forums
Reporting and analytics
Answer bot
Customer service software
Zendesk for service
Zendesk for sales
Marketplace
Top Features
1: Messaging and Liv Chats
Messaging is a personalized way to connect with anyone. You can converse one-on-one with your customers to guide them through any service, product, or issue. Customers feel honored when a company's representative communicates with them. You can make permanent sales via Zendesk's messaging and liv chats feature.
2: Community Forums
Make your customers feel they are a part of your company by creating community forums for them. You can make announcements and update about your company to every customer via this feature. This feature makes Zendesk one of the best tools for SaaS businesses. Customers can also communicate with the forum's moderators and handlers.
3: Answer Bot
If for some reason, the customer cannot connect with any company's representative – they can also use the answer bot. An answer bot will become a helping hand for your company, which is available 24/7. You can make customized answer bots on Zendesk.
Pricing
You can use Zendesk with different pricing plans.
For Zendesk Services
$49 for suite team
$79 for suite growth
$99 for suite professional
For Zendesk Sales
$19 for teams
$49 for growth
$99 for professional
Conclusion
Zendesk is the best platform to automate tasks for every employee and for getting the most detailed advanced activity reports. Zendesk gives surety to customers that they are being heard resulting in customer satisfaction. This makes them opt for your business every time. Zendesk is also one of the most affordable tools for SaaS businesses.
Wrapping Up
These are the top-rated tools for SaaS businesses that will take your company to the next level. With these tools for SaaS businesses, your employees can automate routine tasks and focus on more essential things.
If you are looking for a comprehensive, affordable and a kind of tool that markets your SaaS business then Stratigia is the place for you. Every company needs to advertise themselves in the most creative way to stand out. With Stratigia's SaaS marketing services, you never have to worry about staying behind.
The company provides a full range of marketing services that include SaaS link building services, SaaS content marketing services and SaaS SEO services. With years of experience in the marketing field, they make companies recognized brands.