Overview of Windsor.ai (Marketing Attribution SaaS) 
Windsor.ai is an enterprise marketing attribution software that automates the integration of your analytics, CRM, and marketing data from over 50 platforms. With this tool, you can effortlessly stream all your data to a spreadsheet and easily generate reports.

The Problem – no high-quality topical blogs for this SaaS
Though there were a few blogs earlier but they haven't been getting much inbound traffic and that too from a related audience. 
The Solution – audience driven, high-quality & actionable blog
Since a good part of their Marketing Attribution Software was linked with Google Ads, Windsor.ai wanted the attention of people using Google Ads. 
That is when we created an evergreen tipsicle on the best Google Ads PPC Campaigns Strategies with the sole purpose of making it the best resource possible.
After thorough research, we handpicked the 13 best strategies to be included in that blog post.
And to achieve that, each of these strategies was followed by an actionable step to implement it;
The Results – Traffic, Keyword Rankings & Links
The blog attracts almost 1000 visitors per month globally.
And it's responsible for almost 28% of their website traffic from (the USA) their primary target market.
With over 200 keywords ranking and Top 10 ranking for a lot of high-quality keywords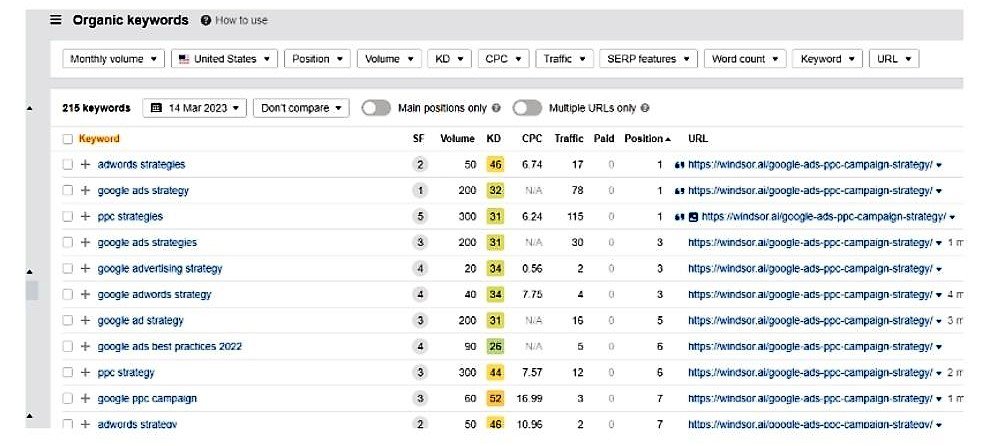 And it was also able to secure contextual organic backlinks from high-DR websites;

Are you a SaaS company looking to rank higher and attract your target audience with top-notch content? Contact us today to create a winning and MRR-Driven Content Strategy for your SaaS.