Whenever a company launches a new product or service or starts a new industry, it must ensure its intended audience knows its existence. Because without this information, no matter what activities, content, or methods are used to spread a brand's message, they would be ineffective.
This is where inbound marketing comes into play. Simply put, inbound marketing ensures that your target audience knows you exist. As a result, the audience will be receptive to your content marketing methods and other outreach initiatives until they recognize you as a player in this segment or business.
Inbound marketing is a strategic approach to creating good content that satisfies the needs of your target audiences and develops long-lasting customer relationships. Your customers are your users because you ease their problems. The essence of B2B inbound marketing for software-as-a-service (SaaS) enterprises is providing the answers your target consumers seek.
These systems can form diverse content supplied across several marketing channels, each designed to interact with prospective clients at various stages of the buying cycle.
In this article, we will discuss the role of inbound marketing in the SaaS industry. And how you can use inbound marketing tactics to propel the success and growth of your SaaS business.
 In addition, we will investigate how inbound marketing for SaaS companies differs from typical inbound marketing.
Before we start, however, let us discuss a bit about the inbound marketing concept so that we will begin on the same page.
What Is Inbound Marketing?
Inbound marketing is creating content your target audience wants to read to attract them to your website via search engine results, social media, and other channels. Understanding how inbound marketing functions requires a firm grasp of your ideal customers, their most significant pain points and questions, and their progress through the sales cycle to make a purchase. 
According to statistics, inbound marketing results in 30% higher growth rates, 5-10% higher retention rates, and up to a 647% increase in ROI for SaaS companies.
The Marketing Funnel
To comprehend how inbound marketing functions, we must know the marketing funnel.
The idea behind the marketing or sales funnel is the buyer's journey. Every audience's process before becoming your customer will resemble a funnel. 
There will be a more significant number of people in the preceding steps, but a smaller number will buy the product/service.
Typically, a marketing funnel has three or four primary stages, especially in the SaaS industry.
Awareness:

the prospect becomes aware of a product or service or a specific problem for which a solution is required.

Research/consideration:

the prospect considers the various market-available possibilities. The prospect may also investigate potential remedies to their concerns.

Decision:

The prospect finally chooses a solution and purchases the goods or services.

Delight:

The purchase decisions technically occurred in the third step, and the marketing funnel is now complete. So, there is a fourth stage in which the buyer is pleased with your brand and becomes an advocate.
The inbound marketing methodology is designed to attract clients at each level of the marketing funnel.
Importance of SaaS inbound marketing
Knowing how to get people to click on things on the internet is a superpower of the twenty-first century. And knowing how to do this organically (for free) makes it even more crucial for a new business.
This is why modern marketers must implement inbound marketing strategies. Instead of interruption-based messaging, in which businesses had complete control, inbound is about empowering buyers to make their own choices. As a result, you are aligned with how buyers think, research, and make purchases, resulting in a more robust, longer-lasting relationship.
Here's our guide to inbound marketing for SaaS companies.
Implementation of Inbound Marketing for SaaS Companies
You implement SaaS inbound marketing in four steps
Create Content for Stages of the SaaS Sales Funnel
1. SaaS Content Creation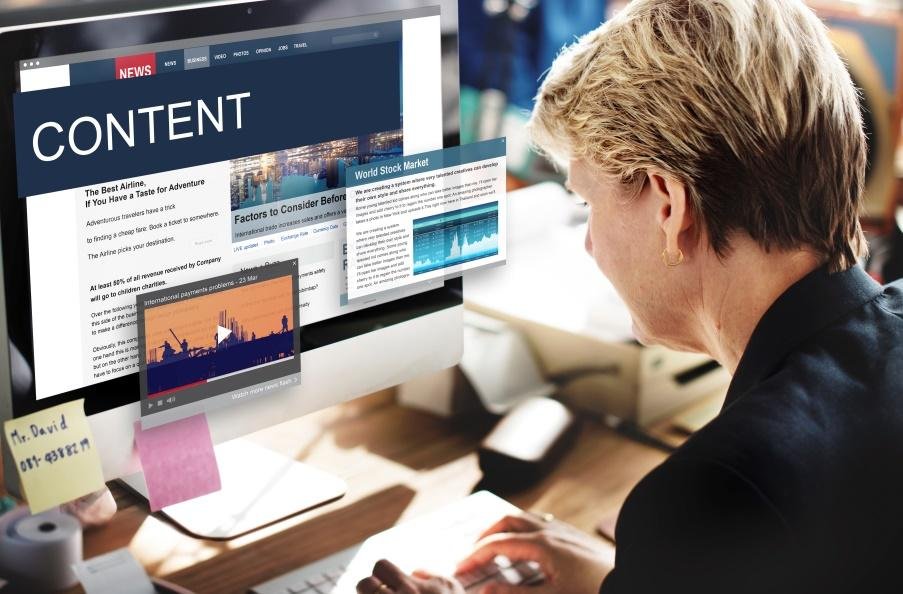 Your inbound content marketing plan should begin with creating this important content. However, it is essential to avoid writing content based on what "feels" appropriate and instead focus on what is correct.
You can accomplish this by conducting extensive research to guarantee you're providing content that people genuinely need and are searching for and to offer it the best chance of reaching the right eyes.
Understanding your audience is the first and most crucial step in achieving this.
SaaS User Research
Your priority is to do user research. Who is currently utilizing your product? Who is presently consuming your content? You will need to determine demographic types in addition to geographical landscapes. Next, create user personas based on their responsibilities, tasks, requirements, pain points, missions, values, and prior experiences.
Once you deeply understand your consumer, you can connect all parts of your content with their needs. This comprises content subjects, kinds, language, medium, distribution channel, and length.
Keyword Research
There are two primary ways we could stumble into a piece of content: a Google (or another search engine) query or a social media share. Here, we will discuss the initial.
To ensure that our content is discoverable, we must target the appropriate keywords so others can access it using a search engine.
Various tools can be utilized to assist with this aspect. First, there are free and paid solutions, like Google's Keyword Planner, UberSuggest, SEMRush (also see alternatives to SEMRush), and Ahrefs.
There are only three fundamental principles of keyword research:
Find meaningful and relevant keywords for your business and your audience.
Find keywords with a sufficient monthly search volume and good competition (some keyword research tools may label this "keyword difficulty").

Find keywords that can be expanded into a topic and actual content.
Competitor Research
Utilize an old-school marketing technique like SWOT analysis to conduct your competitive research. Examine what your competitors are doing well with their material, what they are not doing well, the chances you have to overcome them, and the risks you may face if you do so.
Consider that your competitor does not know everything. So, they are human beings just like us, and they are doing their best. Perhaps they conducted their competition analysis and were inspired by your article.
Content topics

Content formats and mediums 

3rd party reviews

Social media presence 

Sales funnels 

Chatbots 

Keywords
Social Media Trends Research
By creating content following social media trends, you can increase its shareability. This element can be aided by tools like BuzzSumo (and BuzzSumo competitors), and the underlying ideas are comparable to those of keyword research.
Discover trending topics that are related to your business. This can be combined with the keyword research section above. For instance, you can determine whether a keyword target has sufficient social media buzz.
Ensure that you can generate valuable, relevant material from the topic.
Always consider the competition's manageability. If it is oversaturated, it is probably not worthwhile to pursue.
Content Development
Once you have completed your research, you can begin creating the content.
None of this research must be wasted. Your research completed approximately 60–70% of the task. So, you should have a crystal-clear approach for every area of content development and enter the process with a well-defined objective.
If you are part of a large team, ensure that your research is understandable and easily accessible. For example, consider a sushi buffet in which the food is displayed in bite-sized pieces and plain view.
Congratulations, your research and content development are complete! The first level has been completed. Ready to progress?
2. SaaS Content Promotion
How you promote the content is just as important as the quality of the content. Remember that no matter how good—or unique— the content is, there's no use if no one is reading it.
Above in the content creation section, we have briefly discussed the importance of SEO. Indeed, SaaS SEO services will be the primary content promotion method in inbound marketing.
SEO
SEO is a somewhat large topic. Therefore, you may wish to consult our guide on SaaS SEO strategy.
However, there are several crucial areas to concentrate on when improving your content for search engine optimization:
Ensure that the page is mobile-friendly and quick to load (3 seconds on a standard 4G connection is your upper limit)
Use your keywords naturally and mix terms that are semantically related. Focus on creating natural material to read for a human audience without overthinking it.
Ensure that your information is organized and free of typos and grammatical mistakes.
However, backlinks are the key to SEO. It is vital to realize that, nowadays, quality is more significant than number when it comes to incoming links. Acquiring too many backlinks simultaneously, even if authoritative, can result in a penalty. Aim for two to three quality backlinks per month.
The cornerstone of your content promotion plan will be to acquire additional backlinks. In other words, you should aim for high-quality backlinks with every further content promotion attempt.
Social Media Promotion
Social media can be an excellent technique for B2B content distribution. Use the demographic data available from each social media channel to tailor your social copy and post type to those demographics.
Want to take matters further? Implement an internal social promotion strategy with your employees. This is a simple trick for smaller SaaS companies and startups in which every sight counts. For example, create a Slack channel or a monthly email reminder to encourage your colleagues to share high-performing posts on their social platforms.
Email Marketing
Sending your fresh content to your email subscribers may be helpful, particularly during the deliberation phase of lead nurturing content. How can we create a growing email list to begin? Also, via content, as will be discussed in greater detail below.
Influencer Marketing
Influencers' marketing power has expanded over the past five years, and savvy businesses have leveraged their popularity and influence to place their products and relevant content in front of an engaged audience.
Finding the best thought leaders in your industry is an excellent way to build your backlink profile for SEO. Because influencers are trusted members of their community, their endorsement is often enough to direct a qualified potential customer to your software, resulting in a significant increase in conversion rate.
Guest Posting
When done correctly, guest posting remains a highly efficient method for promoting your brand and content and acquiring vital backlinks. Reach out to renowned websites and blogs in the SaaS field and provide a proposal for a guest post.
The idea is to establish your credibility (by your content) and cultivate relationships. Occasionally, you will need to spend money to obtain these possibilities, but the expense may be worthwhile in the long run.
3. Content Optimization
Your content is excellent, but it can always be better. Therefore, optimization is your inbound marketing playbook's final area of concentration. Always strive to improve your content using each of the techniques described in this post. This will attract more leads and reduce sales process churn rates.
What does a strategy for content optimization look like? I'm glad you asked.
KPIs
Establish KPIs that demonstrate you are on course to achieve your monthly, quarterly, and annual objectives. Then, compare these KPIs against earlier data sets to verify you're setting goals for your content strategy that are ambitious enough to motivate you but not unattainable.
Your KPIs must be precise to inbound content objectives. This means you should not necessarily view MQLs as indicators of success.
Red flags
Content optimization does not necessarily happen as a result of measuring success. Instead, remember to observe the red flags along the path.
Implement tools and procedures that notify you if a particular material is malfunctioning. This can range from a technical error preventing the delivery of your important content to the content not being received as intended by the intended audience. Numerous SaaS solutions can raise red lights; we will discuss a few shortly.
4. Create Content for All Stages of the SaaS Sales Funnel
Although the buyer's journey in B2B can be reasonably complex, the SaaS sales funnel is similar to other sales funnels at its most fundamental level and consists of three major stages.
Top of the Funnel (ToFu)

: Individuals who are just becoming aware of a problem and searching for answers, information, and resources.

Middle of the Funnel (MoFu)

:  The decision-making stage, where individuals research whether your product is a suitable fit and compare it to other products.

Bottom of the Funnel (BoFu): 

The purchasing stages, where individuals have decided to become customers and seek materials to validate their decision.
Inbound marketing is most successful when you generate content that suits each stage. Also, keep in mind that buyers will join the funnel at various points, so it's crucial to offer content that meets their demands at all times.
FINAL WORDS     
Inbound marketing is one of the most effective marketing strategies for SaaS businesses. Through inbound SaaS marketing, you will boost traffic, produce qualified leads cheaper than outbound marketing, and establish your organization as an industry leader.
About SaaS inbound marketing, your success will depend on your level of customer understanding. The quality of content you can develop for potential customers and your ability to get that information in front of the right eyes.
Inbound marketing might be the most successful tool in a company's arsenal when utilized appropriately.