Search Engine Optimization (SEO) is becoming an increasingly popular strategy in SaaS marketing. SaaS start-ups and well-established companies are drastically using SEO in SaaS business to engage with larger audiences. 
Now, if you own and run a SaaS business and have yet to learn about website content SEO, content marketing, and SEO in SaaS business, you are missing out big time. But fortunately, we are here to help you and get you out of the vicious cycle of running expensive ad campaigns without satisfactory results. 
What is SEO?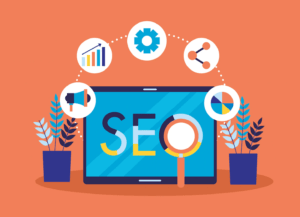 SEO is a procedure used to increase a website's search engine visibility. As the name suggests, an increase in search engine visibility means that the website would be able to generate more web traffic. 
Why is web traffic generation important? If you own a SaaS business, all your audience is the online search engine surfers. SaaS (Software as a Service) firms must engage with their target audience on search engines like Google. The more your business has search engine visibility, the more traffic you can gain. 
SEO in SaaS business boosts your search engine visibility and helps you reach a broad customer base. Search engines have become the mainstream medium for businesses and individuals to look for the services they want. Therefore, your search engine presence matters most if you have a well-functioning SaaS business. 
Why Does SEO Matters? 
There are numerous benefits of using Search Engine Optimization. SEO in SaaS business is an integral part of the SaaS marketing strategy, and its popularity is ever-rising. We will guide you through and inform you how SEO in SaaS business can benefit you. 
1. Higher Ranking
SEO in SaaS business is essential for a higher ranking of your website on search engines. The higher the rank of your website reflects its credibility. Readers who want SaaS services would want their potential providers to have credibility. 
Another vital thing to remember here is that most surfers do not look past the first page of their respective search engines. If your website is appropriately optimized, its chance of appearing on the first page drastically increases, and this eventually results in higher organic traffic and attracting more prospects. 
It would be best if you considered how to obtain and retain a high ranking and a good SEO in SaaS business score. Well, all you have to do is put out the best content and never compromise on organic research. Organic research is parallel to high-quality content, and the best part about it is that it's completely free. So, while drafting a content strategy for your SaaS company website, you should focus on well-researched content. 
SEO in SaaS business also ensures reliability because this strategy is promotional for your business in the most non-persuasive way. While expensive ad campaigns like Pay Per Click (PPC) drain your finances and are often persuasive, they result in readers bouncing off your website; why? Because you are being pushy and salesy. 
On the contrary, SEO in SaaS business is much more reader-friendly and informative. SEO in SaaS business is more informative, and search engine surfers often get much knowledge which builds immense trust and reliability between your SaaS firm and your potential prospects. 
2. Budget-Friendly 
Marketing is often seen as the primary drainage of cash and a part where most of your investments are allocated. Any business would want to minimize the returns on marketing expenditures, and so would your business. Tactics, for instance, like PPC, put holes in your pocket and generate minimal returns. Over time SaaS businesses are becoming aware that using PPC is like milking a dead cow. 
SEO in SaaS business is the most affordable alternative. It is a strategy that needs minimal investments and generates maximum returns. SaaS businesses that are just starting are the ones that could get the most benefits from SEO. Newly built SaaS firms must manage their finances carefully and keep their investments and expenditure as low as possible. 
SaaS firms that use SEO in SaaS business strategies have to spend less, and their business is marketed subtly to the right target audience. SaaS start-ups and SaaS giants are also adopting SEO in SaaS business strategies now as it is a more viable alternative. 
3. Edge Over Competitors 
Among all the benefits of SEO, one that stands out is that SEO in SaaS business helps you to get a competitive edge over competitors. As SEO helps your search engine rankings, your SaaS website would be ranked over your competitors. Search engine surfers have more reliability over those websites that are ranked higher. 
Your SaaS business does get a competitive edge over competitors by providing better services and more affordable pricing, but your target audience has to experience all of this first. For example, your SaaS website needs to be optimized correctly. In that case, no matter how cool the services you provide, your potential customers will ignore you and leave for a better service provider. 
4. Keyword Usage
One of the essential parts of SEO in SaaS business strategy is target keyword usage. Keywords are crucial in several ways. If you need to know what keywords are or how these are used, then don't worry. We will make it easier for you. 
Keywords are those words surfers search for when asking a query on search engines. For example, a surfer searched for "Best Time Management Software." The word Time Management would be the primary keyword. The usage of relevant SEO keywords is necessarily crucial for SEO. 
The list of keywords help your web traffic to stick to your website. For example, suppose a surfer visits a SaaS website and reviews its content if they don't find relevant keywords. Their chances of bouncing off increase drastically. As surfers' readers bounce off a website, the sales funnel can't be created, and the potential customers are lost. 
Keywords are beneficial as they enhance content quality and increase readers' and surfers' engagements, reducing the bounce-off rate. Various analytical tools for web content stress the usage of keywords, and your SEO scores improve drastically with suitable keyword usage. 
We also have to tell you another important thing: if a surfer looks for "Best Time Management Software," semantic keywords are encouraged. "Time Management Software" will be the primary keyword in this case and must be frequently used. Other words like "Productivity" and "Efficiency" will be the semantic keywords. Semantic keywords are relevant and close to the content topic and surfers' query. 
If you are new to SEO in SaaS business and have minimal knowledge of how to find perfect keywords for your web content, then don't worry. We'll rescue you here too. Keyword research is not complex rocket science. Excellent tools like Semrush and Google Keyword Planner can help you find the appropriate primary and semantic keywords for your website. These are great tools that can help your SaaS firms with content marketing. 
SaaS firms should also refrain from the overuse of primary keywords. Search engines hate the overuse of keywords which is more commonly known as keyword stuffing. If a search engine crawler detects that the primary keyword is overused, it will downrank the respective website, leading to less generation of web traffic and hence loss of prospects. Therefore, a healthy percentage of primary keyword usage in web content like blogs should be around 2-5%. If you can't get enough of using primary keywords, semantic keywords are the solution. 
5. Brand Recognition 
Whether emerging start-ups or well-established firms, SaaS firms need to stay relevant. Being relevant is crucial, and why so? A SaaS firm needs to gain visibility to attract site visitors; hence, its services can't be availed. 
A coherent SEO in SaaS business strategy helps SaaS firms build brand recognition. For example, we know that an adequately used SaaS website would achieve a higher SERP ranking with SEO in SaaS business strategies. As higher SERP rankings are gained, more surfers will click on the website's link. 
Brand recognition is vital for SaaS firms. If a start-up gets recognized early on, its chances of becoming lucrative rise drastically, which helps cover up its investment expenditures and expenditures in general. 
A well-established SaaS firm also needs to avail itself of all the opportunities of gaining brand recognition. Although SaaS firms could be well-known, if they lose brand recognition, they wouldn't be able to target customers who are new, and the chances of retaining more customers would drop too. 
The SaaS industry, in general, is fiercely competitive. So a business that can gain brand recognition early on would have a competitive advantage. Those who can't get enough brand recognition would be big-time losers, no matter how superior their services are. SEO in SaaS business is one of the best ways to build brand awareness. 
6. Link Building 
Another vital aspect of SEO is SaaS link building. There are two main sorts of links that a SaaS website uses: the first is internal links, and the second is external links. Internal links are used to connect the audience or surfers to the internal structure of the website. An example of internal linking is if blog content is published on a website hosting an internal link to one of its landing pages or other web content; this is called internal linking. 
External Linking is when a SaaS website links to external website resources like web blogs or landing pages in its web content. There are several reasons why link building is an integral part of SEO strategy. 
Link building is helpful for SaaS firms in a way that it helps them to relocate their websites. If web content has no linking, mainly external, then that particular website would be hard to locate for search engine bots.
External linking, if done with a website with subtle domain authority, would be beneficial for your website too. A higher domain authority reflects higher trust and reliability of a website, and if you use this site, your web content quality will enhance. 
Internal linking is also essential for many reasons. Firstly, internal linking enhances the content infrastructure of a website. As your landing pages are adequately linked, surfers can easily find or learn more about your respective services. 
Internal linking is also one of the best ways to drive higher user engagement. As the surfers visit your website and if your web content has internal links, their chances of staying on your website increase rapidly. 
7. Landing Pages 
The landing pages are one of the parts of web content that is tailored primarily to drive more sales. Therefore, landing pages are web pages created with a sales-centric vision and should be carefully focused on. 
Various SEO strategies can be experimented with on landing pages. The first one is that these pages should be internally linked to web pages like web blogs where your SaaS business educates users about a service and then links relevant services landing pages to that particular web blog. 
SaaS businesses should follow a thorough procedure while creating landing pages. They should have proper CAT and excellent information about your services to convert surfers and readers into cash-generating prospects. 
In contrast to other web content like web pages, landing pages should have a persuasive tone rather than an informative tone. SaaS businesses should be cautious in conveying their message through landing pages. Too much persuasiveness could lead to adverse effects. 
One of SaaS firms' best practices should be regularly optimizing their landing pages. Therefore, frequently checking up on landing pages is recommended practice. While creating a landing page, a series of checklists should be ticked. The landing page should have your services' Unique Selling Point (USP) and should be customer-centric, focusing on benefits, testimonials, and a strong Call To Action (CTA) at the end. 
The TakeAway
We have gone through a series of benefits of using SEO strategies and how these can be advantageous for SaaS firms. Remember, SEO in SaaS business is a beneficial content marketing strategy that is adequately used; otherwise, if its essentials are ignored, it won't reap any rewards for your business. 
Only a few SaaS businesses can do SEO well and in an organized manner on their own. Indeed there is a need for you to have a competent SaaS SEO agency that can do SEO in a business perfectly. So if you are having trouble finding one, don't worry; we have your back. 
Startigia is a reputable SaaS marketing agency that has aced in content marketing. We provide numerous services, which include SaaS SEO, B2B SaaS marketing, and many more. So you don't have to look any further; avail of our services and leave your content marketing to us.