Overview of HyperOffice (Collaboration & Communication SaaS Suite) 
HyperOffice has established itself as a leading cloud collaboration and communication software provider. Their extensive suite of solutions encompasses a range of features, including intranet software, online document and project management, shared calendars, contact management software, online database software, web forms, team communication, certification automation, and much more.
The Challenge – Quick Inbound Push on one of their products
HyperOffice had content but wasn't optimized enough to attract the quality and quantity of traffic. Their landing pages, as well as blog posts, were underperforming and needed an optimization sprint.
Though HyperOffice had several products, they wanted to focus first on their product WorkMap, which was an online database tool and MS Access Alternative. And they wanted something which could drive quick results.
The Solution – Bottom Funnel Content Optimization
So based on what they wanted, we selected 1 landing page and 1 blog post because ;
They were already ranking but underperforming because those rankings were not page 1 rankings

Both contents were bottom-funnel content, meaning they can not only attract traffic but directly impact conversions as well
A -Landing Pages Optimization
We optimized the MS Access Alternative Landing page, which showed WorkMap as an alternative and to attract an audience actively searching for an alternative to MS Access.

So we optimized it in par with relevant keywords and improved its ;
Page Title and Description

Added some content and optimized the overall content

Improved other on-page metrics such as speed, images, internal links, etc
B – Blog Posts Optimization

Similar to the landing page, they had an Access Alternative Blog post, and we performed the same level of optimization on this as well as we did for the landing page
The Results – Significant Growth in Traffic & Conversions
A – Increase in traffic and conversions on the landing page
After implementing our optimization, the traffic increased by 59% and conversions by over 56%.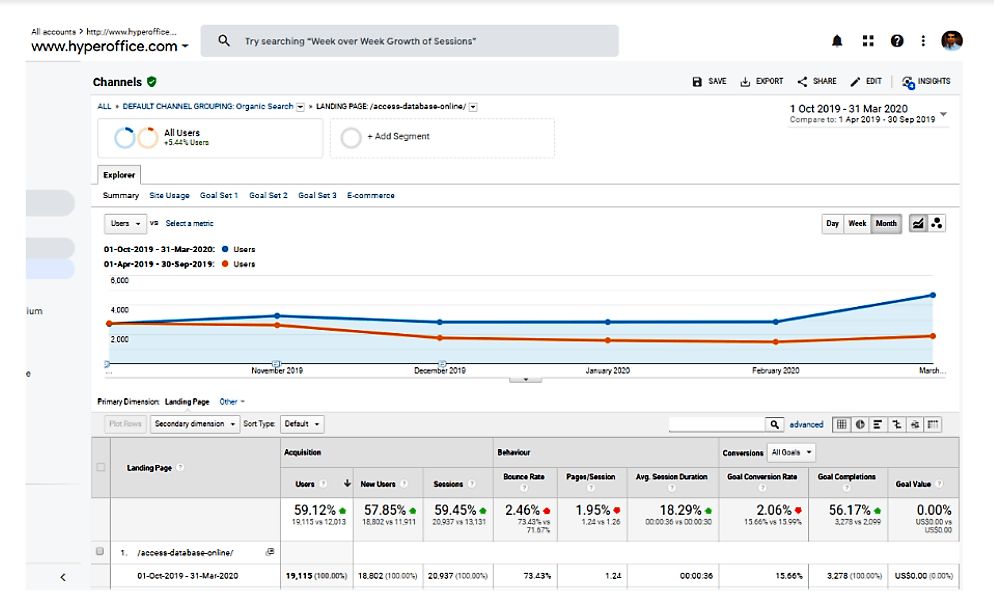 B – Increase in traffic and conversions on blog posts 
The optimized blog post experienced significant growth, with more than a 271% increase in traffic and a 321% increase in conversions
And these 2 pages are still the top performer for them, attracting 70% of their traffic

If your SaaS company is striving for rapid success through SEO, contact us today to receive a tailored, MRR-driven optimization blitz designed just for you!