SaaS And Software Deal Submission Websites

Bringing customers to your SaaS business is one of the most challenging jobs. There are many activities that SaaS businesses use to entice customers in which SaaS deals a submission is an excellent option. These websites have the strength to expose your SaaS business to thousands of visitors quickly. This sort of promotion works quite effectively to grab the attention of new customers.
According to the CMO Council report, 71% of internet users in the U.S. look for coupons before making a purchase. It clearly shows that if your SaaS software is listed on these platforms, you can easily target massive customers.
If you are searching to promote your SaaS business in front of a larger audience, then SaaS deal submission websites are the perfect option.
This article has compiled a list of deal submission websites for instant sales and best deals.
1 – App Sumo
App Sumo is a SaaS submission website that was founded in 2010. It was one of the top websites for sales and was used across different countries. They were mainly focused on listing the deals related to digital tools. Later, they also included deals in programming languages, project management, etc.
2 – SaaS Invaders
SaaS Invaders is another SaaS submission website that features a SaaS-focused community. They look for deals that facilitate SaaS businesses to run and grow their businesses better. You can submit two different types of discounts on their site: a limited-time deal and the ongoing deal.
3 – Techbargains
Techbargains is the best website for SaaS-related technology product deals and helps customers get instant sales. They also offer other deals as well like electronics, computers, small businesses, etc. This website lists the latest technology available like those items you require daily.
4 – Dealmango
Dealmango is a daily deal submission website that offers lifetime deals on SaaS, software, and apps. They update their site regularly and place all the updated deals frequently so that users don't have to search for other places to get the perfect deals.
5 – SaaS Mantra
SaaS Mantra is an excellent platform where SaaS-based deals are listed. By listing your SaaS deals on SaaS Mantra, you can get instant sales. They also list events related to SaaS software and have a referral program as well to get some money by referring the top products to your friends.
6 – Deal news
Deal news is a famous SaaS submission website where you can post your SaaS deal. They have over 14 million visits to their website in a month, which clearly shows that people return time and again. They have more than 400 deals every day of the week, which means you will always discover anything that you want.
7 – Hip 2 Save
Hip 2 Save is an excellent SaaS submission website with a small team of money-saving experts dedicated to having valuable content that resonates with their massive audience. This website is one of the top deal finders with the guarantee of posting deals every 10 minutes. 
8 – Dealspotr
Deal spotr is a great place to list your SaaS deal and get instant sales. They have more than 70000 deals from people all over the world who assist in making the best database of coupon codes and deals for other users.
9 – Deal plus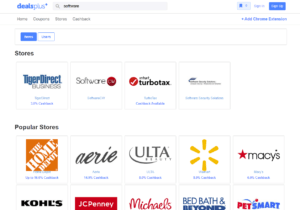 Deal plus is an excellent place to explore, share, and comment on the deals on offer. They share deals and reviews on their website. With over 7 million monthly visitors, they are the right place to post your best deals.
10 – Good shop
Good shop is the most influential SaaS submission website to post your software deals. They not only offer the top deals on the internet but also donate to the nonprofit or school of your choice for almost every purchase you make.
11 – Slick Deals
Slick deals are one of the most trusted websites for sharing, rating, and reviewing deals and coupons. Lots of people discover deals and coupons across a wide variety of products and retailers. Their community has millions of users who are zealous about finding and sharing good deals.
12 – Mighty Deals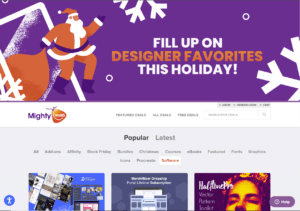 Mighty Deals is a website that lists daily deals intended for creative professionals. They offer exceptional deals on quality fonts, templates, apps, eBooks, icons, etc. All the deals posted on their website are reviewed carefully by their team to make sure that you find the best deals.
13 – Bits Du Jour 
Bits Du Jour is all about deals from the best Mac and PC software. Their values start at Midnight Pacific time, and the software vendor is required to answer any questions. They have a massive number of longer-running sales as well, which let you search for the best software at a reasonable price.
14 – Sourceforge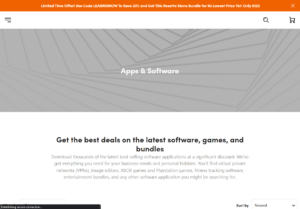 Sourceforge is an excellent website for listing your software deals and get instant sales. They have many software's listed on their website with some great deals.
15 – Ben's Bargains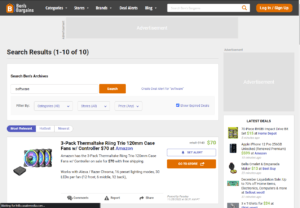 Ben's Bargains is a one-stop solution for the top online deals. They are a team of dedicated deal hunters focused on searching for the latest deals at the lowest prices all over the internet. They post dozens of top-quality deals around the clock so that their customers get the perfect deals.
16 – Brad's Deals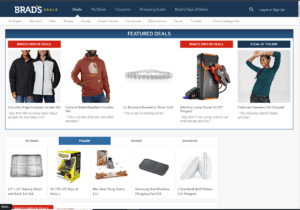 Brad's Deals is a website that brings the top deals collectively on the internet, all in a single platform. They will never show you a deal until they confirm that it's the best one for any product.
17 – Coupon Album
Coupon Album was founded in 2006. They have more than 1000 plus stores on their website and provide coupons and discount offers for 4,000 plus top stores. They make finding online coupons and promotions on different products easy for their customers.
18 – DEALigg
DEALigg is a terrific website that lists your software deals. They are a community site whose content is run exclusively by shoppers. They will smash you over with the most excellent deals you can locate online.
19 – Deal Catcher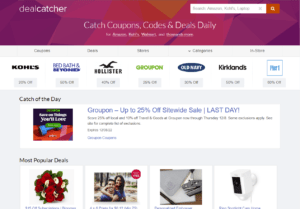 Deal Catcher is an online community where you can find online coupons, products, sales, reviews, and rebates. Their website is updated regularly by their staff. They are keen to provide you with the tools required to stumble on the most incredible deals.
20 – Dealio
Dealio is a website to discover the top quality deals on many products. You can easily find and post the best deals on their site regarding a wide range of products.
21 – RetailMeNot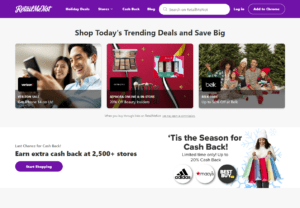 RetailMeNot is one of the leading coupon websites where you find a wide range of coupons easily and can post the coupon of your software quite effortlessly.
22 – Promotion Code
Promotion Code was launched in 2008. They have more than 5 million consumers on their site. They provide consumers with a platform to save money by publishing the most updated promotion codes and coupons available on the internet.
23 – Coupon Great
Coupon Great allows you to submit the coupon regarding your website by simply filling out a short form on their site. They offer you the flexibility to add, update and delete your coupons without their approval.
24 – eDealinfo
eDealinfo is a deal submission website that has worked in the industry for more than 17 years. They list 250 plus deals on their website daily regarding various products of reputable merchants.
25 – InkyDeals
InkyDeals is a place to get your hands on the most excellent deals and design bundles at a reasonable price. They have a specific place to list free deals and the best deals on their site.
The TakeAway
If you own a SaaS business, acquiring new customers may be quite a strenuous and challenging task. There is no better option than to opt for SaaS submission websites to allure more customers towards your business. With the right SaaS submission website, you can attract thousands of customers effectively.
Stratiga is a robust SaaS marketing agency that assists you to solve critical challenges faced by your SaaS business. There is no better option than Stratiga to grow your SaaS business and attract more customers. Get started now and take your SaaS business to the next level.