Markets are changing fast, and businesses need to speed up with the latest technologies to become trophy holders. There are several ways of keeping up with the development pace of the industrial world, like having a better website, application, marketing strategies, automated IT department, etc.
To add these perks, every company will need assistance from the best SaaS development agencies. Whether it is a SaaS project for the public or your company, you will want to get in touch with SaaS development agencies with specific talents and skills.
SaaS projects require precision at all stages of development. In addition, these projects should be fully functional, flexible, adaptable, and easy to use; you can leave all this work to a software development company, a.k.a, SaaS development agencies. Therefore, we have compiled a list of the best SaaS development agencies worth hiring.
1: ODS Group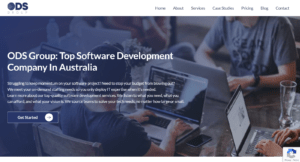 ODS Group is one of the second-best SaaS development agencies on this list. It is also one the top Sydne-based companies that provide the services of building custom software development. People opt for this company because they offer services and solutions that are very much effective, and clients don't have to give second thoughts to their budget.
The company focuses on making SaaS projects easy and simple to use so that the clients don't have to spend another week training the staff. The good thing about ODS Group is that they also provide the services of IT staff augmentation – that is one less problem to worry about.
Features
App development
Offshore software development
QA testing services
Software development
IT staff augmentation
Web development
Build operate transfer
Machine learning
AI development
Cloud computing
Top 3 Features
1: Software Development
Adding software to your business will make customers stick with your company for a very long time. ODS will develop customized and fully functional software for your business.
2: Web Development
Websites have become the must-haves of every company. A website represents any business, and you should get a website that says it all. This company will stand out in web development that will benefit your business in the long run.
3: IT Staff Augmentation
Every second resume you see of an IT expert, they will have the required and needed skills. This puts HR of SaaS businesses in a tight place. They cannot decide on their own who to hire and which candidate will do their best in the company. ODS can take this pain from you and cut the hassle.
Pricing
Get a quote about price plans from the company.
Conclusion
The company gives a roadmap of the development stages, and the company is good at delivering what they promise on time and even before time. ODS Group has been around for a decade, but progressiveness is up to the mark when it comes to SaaS development software and solutions.
2: TechTIQ Solutions
TechTIQ Solutions is one of the most renowned Singapore-based SaaS development agencies pro at what they do. This company is usually opted for by small-scale businesses and new startups trying to turn things around for them in a profitable way. This is because the company offers affordable software development solutions. 
No matter how complex or unique your project is, you can trust TechTIQ Solutions, as they deliver quality work on time. The company ensures that 'we're in this together' and takes your work as their own. The company also provides the services of updating and upgrading existing software and applications.
Features
Web design and development\
Ecommerce web development
Enterprise software development
Mobile app development
Custom software development services
Machine learning
AI development
Digital transformation
IT staffing services
All-time assistance
Top Features
1: Mobile App Development
Every SaaS company should have an app of their own. It makes the customer choose your business since they have the benefit of accessibility. TechTIQ has been progressing in this field for quite a long time, and their apps are worth every penny.
2: All-Time Assistance
If you are stuck in a grubby IT situation for more than one hour then your business will certainly hang. This lag will put a bad mark on your business. With TechTIQ, your systems will never have to see downtime because of their 24/7 availability.
3: Ecommerce Web Development
People are making millions of dollars via SaaS eCommerce. If you are looking to sell products via a regular informational website, it most likely won't work. You need an eCommerce and a SaaS specific website for this purpose. TechTIQ is the right company to go to for this piece of work.
Pricing
Get a quote about price plans from the company.
Conclusion
The company also provides IT staff augmentation services like the ODS Group. At an affordable price, the company confers the services of creating customized software and website development. If you are looking for a complete digital transformation, you should contact TechTIQ Solutions.
3: Saigon Technology
Saigon Technology is one of the top-ranked Vietnam-based SaaS development agencies that are working out and about to provide the best solutions. The company has a team of more than 200 developers who get to your work and engineer it in the best possible way.
You can trust Saigon Technology because they are seen many times on Bloomberg and Forbes. The company has been working with multiple clients worldwide and partnered with 7 big corporate names. The company makes its mission to bring you success.
The company also provides IT staff augmentation services like the ODS Group. At an affordable price, the company confers the services of creating customized software and website development. If you are looking for a complete digital transformation, you should contact TechTIQ Solutions.
Features
Saigon Technology offers the following services to their clients.
AI development service
Offshore software development
Software product development
Cloud migration services
Offshore software testing services
Software outsourcing services
Web application development
AI development services
Mobile app development
Custom software development
Top Features
1: Cloud Migration Services
Businesses can perform well when they are shifted to the cloud. You can opt for Saigon Technology to get your business on the cloud without having to close your business for a day. This service of theirs is also affordable.
2: Web App Development
Web apps allow customers to approach your SaaS company easier and faster than before. Whereas, employees can also benefit from web apps. Web apps become a single point of communication for staff and teams.
3: Offshore Software Testing Services
If your company got software developed by some other service provider and you just found out about Saigon Technology. You can see the quality and functioning of software from this company at a cost-effective price.
Pricing
Get a quote about price plans from the company.
Conclusion
If you have a new project coming up and you want it done within your budget and time, then your go-to SaaS service company is Saigon Technology. VINASA has awarded the company and is also trusted in Vietnam and other countries. Tech firms can benefit from this company as they also provide one-of-a-kind DevOps services.
4: STS Software
Finding the best SaaS development agencies from hundreds is no fun and games plus, it can take ages. If you want your world-changing SaaS project to become a reality, you should go with STS Software. This company is mainly famous in Central European countries and has a literal force of software developers who know their work well.
The company promises to provide the most flexible and engaging SaaS software that will be under your budget. Websites developed by STS Software have won awards for the best design. In addition, the company is said to provide the most agile software in multiple reviews.
Features
Machine learning
AI development
Web app development
Mobile app development
custom software development
Hire software developers
Software product development
Project consulting
On-time task delivery
Custom enterprise app development
Top Features
1: Project Consulting
Even the easiest SaaS projects need some kind of planning. The stepping foot in every project is planning. It takes your worthy time and energy – leaving this work with STS Software will let you think about new projects.
2: Hire Software Developers
STS Software allows you to hire software developers for any task that may concern your SaaS business. Their experts will suggest the best design and development solutions. The best thing about this feature is that it is not expensive.
3: On-Time Task Delivery
This is another perk of STS Software. You can assign them any SaaS-related task or hire them full-time for the most time-taking SaaS project – they will still deliver tasks and report before the deadline. They are working around the clock.
Pricing
Get a quote about price plans from the company.
Conclusion
The company also excels in software product development. No matter what language you speak, STS Software allows you to hire software developers who can speak more than one language. This gives a sense of relief that you can get things done your way. People say that software solutions by STS Software increase productivity in the best manner.
5: Intellectsoft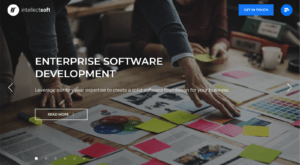 If you are a large SaaS company with a bigger picture in mind, then you will be happy and satisfied with the services of Intellecsoft. This company works with large enterprises who are compelled to make your company better than before. Moreover, you can trust them with your work because they have worked with 20+ most prominent organizations.
The company is tagged as one of the world's famous SaS development agencies for creating the best UX / UI design, and they have the best teams who put heads together to provide the best IT consulting services. In addition, Intellectsoft is a holder of multiple awards for their performance in cyber security and QA testing services.
Features
Product engineering
Product strategy
Custom software development
Mobile app development
IT consulting services
Digital transformation
QA and testing
DevOps
UI/UX designing services
Outsourcing software development services
Top Features
1: Custom Software Development
Getting software development on your terms can be expensive and time-consuming. You can get a completely customized software developed at an affordable price. Plus, the company promises on-time delivery.
2: Digital Transformation
Digitalization is everything. Every company needs to become fully digital to become a good runner in the industrial competition. You can digitally transform your business with a provided roadmap and strategy.
3: IT Consulting Services
Organizations need solid and reliable IT systems and infrastructures. This empowers them to provide the best user experience and expand their business on a global scale. Let IntellectSoft take charge of suggesting the best IT services that your company needs.
Pricing
Get a quote about price plans from the company.
Conclusion
We voted for this company because their solutions are the most adaptable and flexible regarding SaaS projects. This is because their solutions and software work on Azure, Windows, Android, iOS, and even on hybrid platforms. This is something that usually famous companies don't furnish.
6: AltexSoft
AltexSoft is the company that will engineer your SaaS project to make it fully operational and successful. This company is also known for providing the best technology consulting services and working with various companies. The company's primary goal is to raise the user experience bar in every way.
If you plan to create a travel app or such software, then AltexSoft is highly recommended. This is because the company has been providing the best travel tech solutions since 2007. In addition, this company has been seen in the 2018 list of top B2B companies, so they are very trustworthy, making them one of the best SaaS development agencies in the world.
Features
Digital transformation
Engineering services
UX / UI consulting
Technology consulting
Data science consulting
Travel management software development
Airline management solutions
Digital customer experience
Machine learning apps
Digital infrastructure
Top Features
1: Technology Consulting
Businesses need a shot at the latest technology to become top runners. Deciding on the best tech package can be a headache. AltexSoft recommends the best technologies that align with your company's needs.
2: Travel Management Software Development
This company is known among famous hotels, airlines, and travel apps. They provide top-tier software solutions that assist traveling companies in getting more customers. Their apps are often opted because they are easy to deploy and manage.
3: Airline Management Solutions
This company has served famous airlines because they provide the best effective management solutions that reduce risks. We can only imagine their level of expertise as airlines need massive and gigantic management.
Pricing
Get a quote about price plans from the company.
Conclusion
If your company deals with tech, you can get the best out of AltexSoft because they bring forth the best data science consulting services. The company also helps clients with a project based on machine learning and AI. Reviews include companies that are basically from finance, healthcare, marketing, and retail backgrounds, so whatever you are dealing with, AltexSoft will have a solution.
The Bottom Line
Our list of best SaaS development agencies is based on reviews, a list of services, and the solutions the companies have to offer. We analyzed every feature in detail concerning SaaS development, and we have concluded that all of these companies are one of a kind.
Stratigia is a marketing agency that provides tailored solutions for your businesses.. We provide you with versatility, security, efficiency, and reliability at every stage of your business growth. It has the potential to take your company to newer heights of success. The company meets your expectations in a way you haven't thought of.