Budget allocation is an essential part of the process when it comes to optimizing your SaaS SEO strategy. Companies must identify where and how to spend their money for maximum ROI.
This blog will consider how small businesses may improve their SEO budget allocation, how to budget for software as a service, and why budgeting is crucial. SaaS SEO strategy ensures that your money is invested in a way that will only result in growth and profit. SEO is a long-term endeavor that takes time to implement, but you should still develop optimized content tailored to your target audience.
SEO SaaS strategy is essential to any B2B SaaS company's marketing plan. With the help of a reliable SaaS SEO agency, these companies can develop a scalable and robust SEO strategy that helps to increase their website visibility, generate leads, and establish their online presence.
SaaS for SEO is a fantastic way to build your brand and enhance market value. We will also discuss paid media's role and the ROI concept. By the end of this post, you'll better understand how to maximize your SEO for SaaS companies.
By following these simple steps and utilizing the right SaaS marketing strategy, you can improve your search engine visibility and create engaging content that resonates with your target audience. Doing so can help you reach a larger audience, increase conversions, and boost overall revenue.
How Can Businesses Enhance Their SEO Budget Allocation?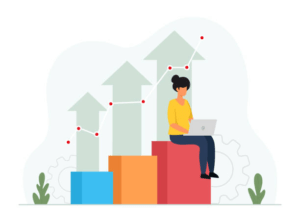 For small businesses, it is essential to develop a custom SEO strategy in order to save money and reach the right people. An effective SEO strategy should include optimizing on-page user experience, building links with relevant websites, and monitoring and reporting.
On-page user experience is crucial for small business SEO growth. A SaaS SEO agency can help you allocate your budget according to the custom SEO strategy you choose. Along with on-page content, a free SEO tool in your existing marketing plans will ensure that all available avenues are used to increase organic traffic.
Here are certain reasons that can help allocate any small business an SEO budget and enhance its market value;
1: Optimize Web Content
Optimizing all page details, such as on-page copy, site navigation, and website content, helps users find what they need quickly and easily. Additionally, optimizing your website content, especially blog posts, helps improve page ranking and makes your site more credible to your audience.
With suitable content marketing campaigns and website content, SaaS companies can gain visibility for their SaaS products and services, drive organic traffic and leads, and ultimately reach their goals with the help of a SaaS content marketing strategy that's powered by search engine optimization.
Content marketing is critical in SEO for SaaS companies. Website content and marketing campaigns are critical for generating organic traffic and search engine rankings; therefore, content production should be part of the SaaS SEO plan.
Setting up tracking systems to monitor changes in keyword rankings will provide further insight into where improvements can be made in your SaaS SEO strategy.
2: ROI Analysis For Custom Strategies
Brands can work to improve their SaaS budget by defining their SaaS SEO strategies. You might already be familiar with the concept of ROI. If not, let us help you!
The overall profit you generate from the amount you put in your customer to create a long-term customer connection is known as return on investment, or ROI. You may now develop unique SaaS SEO tactics based on your brand's needs by estimating your ROI.
Your ROI study and unique SaaS SEO strategy can provide data that can be helpful in creating customized website content and ads. Because not everything you post will be liked, and to operate on the supply and demand principle, you need to know which campaign is liked the most by your target audience. Calculating your ROI across your paid and organic campaigns can help you decide which strategy works best for you.
3: Link-Building For SaaS
Another crucial part of growing your small business through SEO is building links with relevant websites. SaaS link building can help you acquire quality backlinks from referring domains and other sources.
To keep track of your link-building activity, use free SEO tools like Google Trends. Link building for SaaS is critical to your growth and the success of your pay-per-click marketing. External and internal links can both be used to drive traffic to your landing pages. Guest posting is a good example of SaaS link building because these guest posts are published on various websites, increasing your traction.
Additional strategies, such as link-building, significantly impact your content marketing. External and internal links also aid in increasing the visibility of your material. Search engines crawl better and promote your material to your target audience when you have a lot of backlinks.
With the help of a competent SaaS SEO provider, you can now integrate solid links for guest posts and on-page link development, directing more people to your content.
4: Using Paid Media Outlets
Your budget is heavily influenced by the paid media outlets you now use. The primary source of organic traffic is search engine optimization, but it might take months to get the visibility you need to reach your target clients. Paid media fills in the gaps until your SEO efforts pay off. This enables you to get your website content and services out there quickly without waiting for search engine rankings to increase.
Paid media inlets are tailored for the most relevant terms to your SaaS business. With the correct paid media plan, you may maximize your ROI and get more targeted organic traffic in the long term. Through paid media, you can get your website's content and services in front of a broader audience more quickly and effectively than organic search engine optimization (SEO) efforts alone.
Paid ads provide a more predictable ROI since they produce immediate, measurable results. Conversely, SEO does not produce immediate results but can pay off in the long run as users continue to employ long-tail keywords to find your goods.
Businesses use a variety of paid advertising channels, including Google Ads, Facebook Ads, YouTube Ads, and others. According to your SaaS SEO budget, you might also employ these platforms to maintain a noticeable internet presence.
5: Constant Progress Monitoring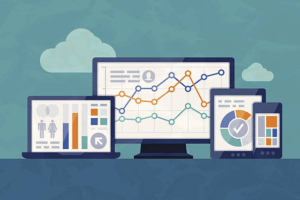 Finally, monthly reporting schedules and constant monitoring are necessary for growing your SEO efforts. This will ensure that you are always aware of your progress toward achieving your goals. SaaS content marketing strategies can also help you manage your budget allocation in an efficient manner.
To build your SEO for SaaS Companies, research relevant long-tail keywords, identify competitive opportunities, and create content tailored to those terms. Your marketing manager may quickly maintain track of your customer acquisition costs, SEO investment, and recurring revenue. All of this contributes to developing a comprehensive strategy for determining the budget for SaaS SEO.
Monitoring the progress of your content marketing strategy can also help you understand how users interact with your content and website, providing insights into what type of content works best and which areas need further improvement.
6: Role of SEO in SaaS Marketing
SEO, or search engine optimization, significantly contributes to any SaaS brand's success. SEO is vital for increasing your search engine ranking and revitalizing your outdated marketing approach. Numerous SEO tactics can help your content stand out from the crowd. Additionally, numerous venues and free tools are available to help you increase your SaaS SEO ranking and brand value.
Keyword research is yet another crucial aspect of any SEO campaign. Creating high-quality content and optimizing it for relevant long-tail keywords on your website is crucial for enhancing your organic rankings. This is because keywords form the basis of market research as they give a direction for you to head towards.
You must produce interesting content to attract more customers and boost content visibility. On-page SEO methods, such as adding alt-text to images and targeting clients' pain points with relevant keywords, will help you optimize your content even further.
Brand awareness is enhanced by SEO when combined with improved content marketing strategies. With the help of a SaaS marketing agency, you can now obtain real-time insights about your success and improve your search engine rankings.
7: Utilizing Free SEO Tools
Don't let anyone fool you into believing you require many paid tools to enhance your social media presence. There are plenty of free SEO tools available to help you measure your progress and make adjustments to your budgeting process. Ultimately, aligning your SEO budget with your annual goals is the key to achieving success.
Google Trends and other free SEO tools can also help you determine which keywords will best serve your SaaS company and help you get the maximum out of your paid advertising campaigns. This enables you to target customers most likely to use your services.
Creating specific targets for each element of your SaaS marketing strategy will enable you to track progress over time. Free SEO tools such as Google Search Console, Google Analytics, and SEMrush will help you monitor progress over time and make decisions based on data rather than intuition.
Free SEO tools can also help SaaS companies with their SEO strategy and can help attract new audiences. Therefore, investing in paid ads and SEO can effectively optimize your SaaS SEO strategy and maximize your return on investment. 
Why Is Setting a Budget Important?
When it comes to setting a budget for software as a service (SaaS) marketing, it's important to understand the objectives and strategies you need to implement. A well-thought-out SaaS marketing strategy needs to include web page design, content creation, content marketing campaigns, search engine optimization (SEO), and paid media. When selecting how much of your budget to give to each, keep Google trends, competition, and client retention in mind.
The goal of a SaaS marketing strategy is to bring in new customers while retaining existing ones. To do this, you must focus on optimizing your website, creating content tailored to your target audience, and running paid campaigns targeted at the right customers. SEO for SaaS companies is an excellent strategy to raise brand awareness and improve organic traffic.
Content marketing campaigns are also important, as they help to spread the word about your products and services. Additionally, using paid media to reach your target audiences is essential to staying competitive in the market.
Careful planning and allocating funds towards the right activities, you can effectively enhance your SEO budget allocation and ultimately make better decisions on how and where to spend your money.
Several well-known businesses are using different ways of promotion, such as influencer marketing, online events, webinars, and other activities that will build long-term interest and further promote your brand. But it all relies on the budget and how brands want to formulate their SEO strategy.
By setting a budget for your SaaS marketing strategy, you can ensure that you're allocating funds where it will yield the highest ROI. It is critical to track the outcomes of your campaigns so that you can alter your budget correctly. With careful planning and tracking, you can ensure that your SaaS SEO efforts are driving actual results.
The Bottom Line
When it comes to allocating your budget for a SaaS marketing strategy, it's essential to start with a small percentage of your total revenue. Consider investing 5-10% of your current income in SEO for several months and adjust this amount as needed.
Once you have determined which strategies have the greatest impact, allocate funds accordingly. You can also hire a SaaS company to help you create a good SaaS SEO strategy.
Setting benchmarks around organic search engine optimization or reaching out to a SaaS company that specializes in organic search engine optimization services. Pay attention to which channels generate the highest return on investment (ROI) so that you can continue to invest in what works best.
You can now create a scalable and actionable SEO budget to ensure that you stay on track. You can now boost your market growth and ROI value with the help of a skilled and dependable SEO SaaS agency like Stratigia. SEO for SaaS is critical, and only by working with top-tier pros can you create a decent budget and raise your brand's visibility among competitors.
Lastly, remember that SEO should be seen as an ongoing investment rather than an expense – invest where it matters most and watch how those investments compound over time!