SaaS businesses have become a necessity today around the world. The unprecedented increase in SaaS has led to businesses searching for a marketing strategy to market their SaaS better.
Among several other growth strategies for SaaS businesses, the best one is to have a reliable SaaS content marketing agency by your side. This article will assist you in explaining the features of some of the best SaaS content marketing agencies
1. Stratigia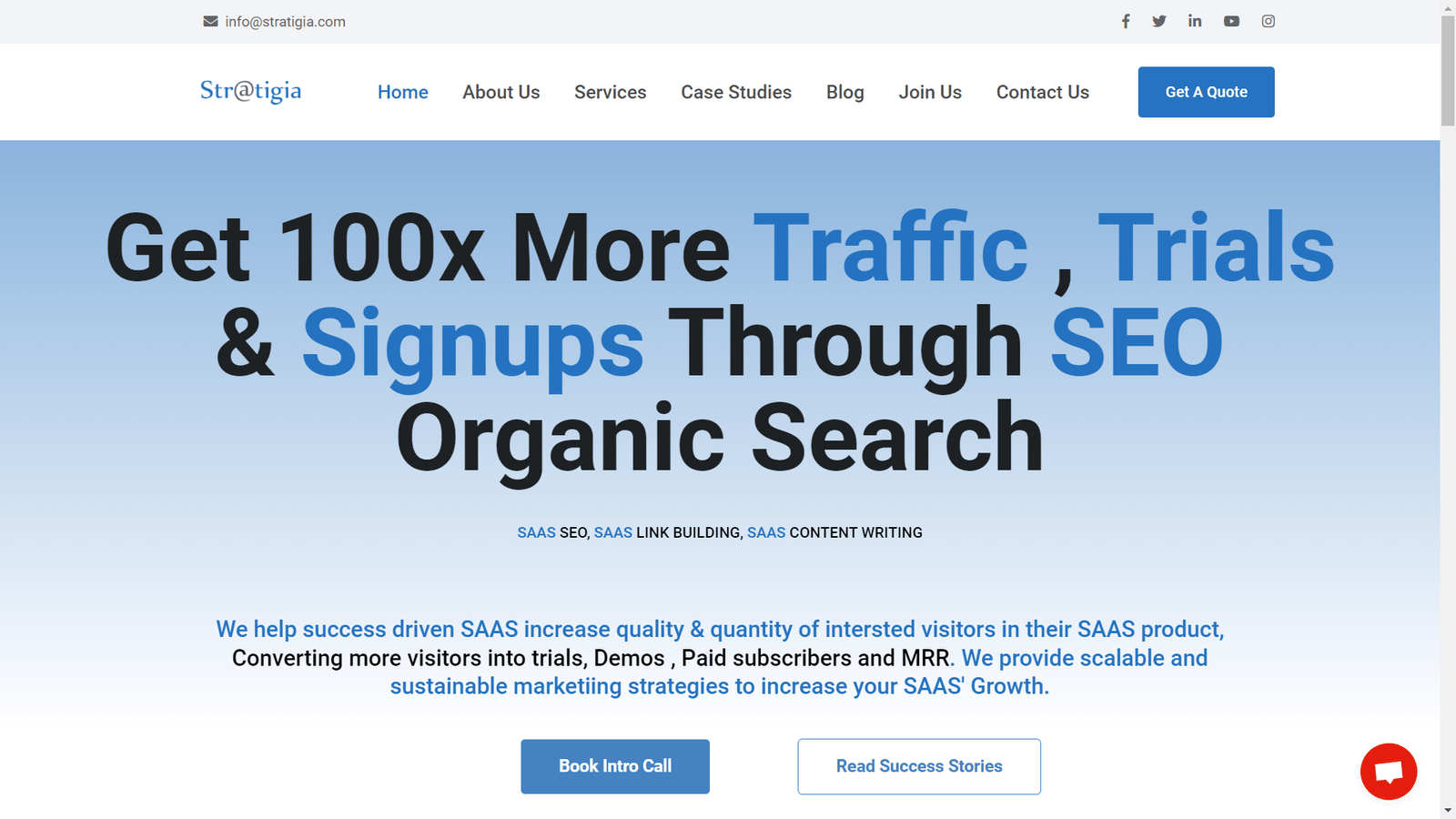 The first on the list of top SaaS content marketing agencies is Stratigia. Established in 2017, Stratigia is a relatively new marketing agency in the SaaS content marketing world. However, our services and strong work relationship quickly attracted several happy clients.
We has swept clients away with unmatched services and an unrivaled success rate. We offer a practical and result-driven content strategy to its clients. Stratigia uses compelling content marketing campaigns to drive monthly revenue and ensure customer retention for clients' SaaS. Our result-driven strategies have earned it several success stories to its credit.
Services
Content marketing

SEO optimization

Link-building

Guest Posts

Blog Posts

Audit and analysis

Short-term and long-term content strategy

Result-driven content marketing

On-page SEO

Organic traffic
Top 3 Services
1. SaaS Content Strategy
Content strategy is critical to any successful digital marketing plan. It is not just about writing blogs or posting on social media; it's a comprehensive plan involving a range of activities to achieve specific growth objectives. This is where Stratigia comes in.
As a SaaS content marketing agency, we offer our clients content strategy services that help them reach their targeted growth goals. At the core of our content strategy services is a deep understanding of the client's business objectives, target audience, and competitive landscape.
By conducting a thorough analysis of these factors, we create a comprehensive plan that outlines the content activities that need to be done to reach the targeted growth goal. This plan includes everything from on-page content optimizations on the website to off-page content marketing tactics such as social media marketing, email marketing, and guest blogging.
2. Guest Posts
Stratigia, your SaaS content marketing agency, offers you unmatched Guest Post services designed to amplify your online presence. Leverage our expertise to establish authority in your niche, while creating content that your customers will love.
We work diligently to identify the right platforms for your guest posts, ensuring maximum visibility and SEO impact. Our team handles all aspects of guest posting, from content creation to outreach, making the process hassle-free for you.
By utilizing our Guest Post services, you benefit from increased backlinks, improved website authority, and enhanced credibility. 
3. Content Audit and Analysis
At Stratigia, we provide you with an in-depth Content Audit and Analysis to understand the current position of your SaaS in terms of content authority. This detailed analysis lays the groundwork for an effective and results-oriented content strategy tailored specifically for your business.
Our content audit examines your existing bottom-funnel pages such as features, solutions, and comparison pages, assessing their effectiveness and impact. We also take a close look at your top competitors, evaluating their content type and quantity to identify opportunities and potential areas of improvement for your SaaS.
By understanding your current standing and your desired future Monthly Recurring Revenue (MRR), we determine the type and quantity of pages and blog posts that we need to create or update to maximize ROI from content. With Stratigia, we ensure that your content is not just created, but planned and analyzed to achieve your business growth targets.
Customer support
Email

Online Ticket

Social media 
Conclusion
Stratigia is among the very few focused SaaS content marketing agencies that deliver what it promises. It holds an amicable relationship with clients to be its top priority. We deliver permanent results through our different content marketing services. The team thoroughly checks your requirements before initiating services to achieve the best possible results.
2. Kalungi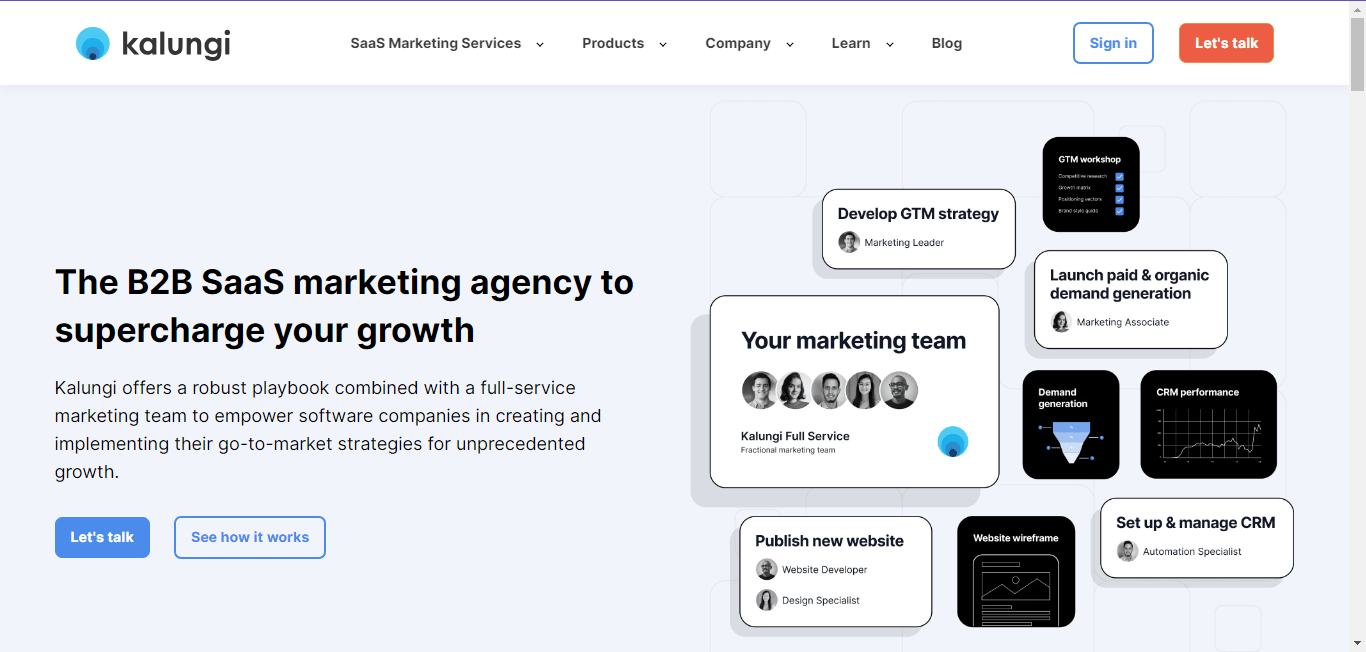 Kalungi is a US-based SaaS marketing agency that extends all marketing solutions to clients. This SaaS content marketing agency encourages startups and established businesses to outsource their complete marketing to focus on other areas of operations.
Kalungi claims to have the resources and team to look after the marketing of SaaS businesses. Additionally, it provides the services of a Chief Marketing Officer (CMO) coaching to those who wish to be content marketers.
Services
Marketing

CMO Coaching

Branding

PR marketing

Organic traffic

Website redesigning

SaaS marketing teams
Top 3 Services
1. Content Marketing Plan and Strategy
A well-defined content plan and strategy is essential for businesses to stand out in the competitive market. It helps companies create targeted, engaging content that addresses the needs and preferences of their audience while aligning with their business goals.
Kalungi works closely with clients to develop a comprehensive content strategy, taking into account factors such as target audience, industry landscape, competitors, and client objectives. They identify the most effective content formats, topics, and distribution channels to maximize reach and engagement.
Kalungi's focus on B2B SaaS companies allows them to bring deep industry knowledge and expertise to the table. They leverage their experience in the SaaS market to create content strategies that effectively resonate with the unique needs and challenges of SaaS businesses.
2. Content Creation in Many Formats
High-quality content creation is vital for SaaS companies to engage their audience, demonstrate their expertise, and build trust with potential customers in a competitive market.
Kalungi employs a team of skilled writers and content creators who produce a wide range of content formats, such as blog posts, case studies, whitepapers, and ebooks. They ensure that the content is well-researched, informative, and optimized for search engines to reach the right audience.
Kalungi's content creation services are tailored specifically for the B2B SaaS market. They have a deep understanding of the industry, which allows them to create content that directly addresses the pain points and interests of SaaS customers, setting them apart from competitors.
3. Content Promotion and Distribution
Kalungi utilizes a mix of promotional tactics to distribute and amplify clients' content. This includes leveraging social media platforms, email marketing, influencer outreach, guest blogging, and other relevant channels to maximize content reach and engagement.
Kalungi's expertise in the B2B SaaS market enables them to identify the most effective promotional channels and tactics for their clients, helping them stand out from the competition. Their data-driven approach to content promotion ensures that clients receive maximum visibility and engagement for their content.
Customer support
Conclusion
Kalungi stands as the best SaaS marketing agency for content marketing due to its remarkable expertise and specialization in the B2B SaaS sector. Their deep understanding of this specific market enables them to craft compelling, targeted content that effectively speaks to the unique needs and challenges of SaaS businesses. This ensures that the content they deliver is not just engaging, but also highly relevant, enhancing the potential for lead generation and conversion.
3. NoGood
NoGood is a marketing agency that caters to all aspects of content marketing for its clients. It provides content marketing services to both product-based brands and SaaS businesses. Additionally, it caters to the marketing needs of other industries, such as healthcare, crypto, B2B, etc.
This marketing company has worked with big names and brands such as Adidas, Citi, Amazon, etc.With some big names to present in its portfolio, NoGood attracts an extensive clientele.
Services
Paid campaigns

Social ads

Conversion rate optimization

SEO

Engaging Content

Full-Funnel Content Strategy

Content marketing

Email marketing

Versatile Content Formats

SMS marketing
Top Services
1. Full-Funnel Content Strategy
NoGood doesn't just stop at the top of the funnel. They understand that content marketing is a marathon, not a sprint, and work to develop content lifecycles that generate sustained growth across all channels and funnel stages. This comprehensive strategy ensures that their campaigns don't just drive instantaneous traffic, but also create a lasting impact and a strong online presence for your brand.
2. Versatile Content Formats
The agency employs a vast array of content marketing tactics including but not limited to blog posts, video content, eBooks, case studies, email marketing, SEO, and social media content. They believe in using multiple tactics tailored to the needs of your business. Each strategy is expertly crafted, carefully targeting different stages of the funnel, to maximize conversions and engagement.
3. Create Engaging Content
NoGood focuses on creating engaging content that grabs customer attention at all stages of their journey, from awareness to consideration, leading all the way to conversion. The team of experienced storytellers conducts audits, refines, and refreshes digital marketing content to ensure a brand's constant and impactful presence. This consistent engagement has been proven to fuel overall growth by 30% and improve customer retention rates by 10%.
Customer Support
Online Ticket

Social media
Conclusion
NoGood distinguishes itself as one of the best SaaS content marketing agencies through its data-driven approach, deep understanding of the SaaS customer journey, and a proven track record of success. Their strategies are tailored to the unique needs of SaaS businesses, focusing on key aspects such as reducing churn, improving customer retention, and facilitating growth through both user acquisition and upselling. 
4. Single Grain
Single Grain, like others, is an all-encompassing marketing agency that works with brands and businesses. The name draws inspiration from a single grain that can produce a flourishing plant with several fruits. Similarly, Single Grain provides multiple marketing strategies in a single place.
Single Grain provides marketing services to its clients through social media channels that promise more reach. It creates paid ad campaigns, blogs, and other content to provide its clients with a constant and consistent social media presence.
Services
Paid marketing

Google ads

SEO

Content marketing

Digital Marketing

Social media ads

Analytics
Top 3 Services
1. Content Strategy
Single Grain's content strategy service involves working closely with clients to develop a tailored and comprehensive plan that meet your respective business goals and target audience. By understanding the client's industry, competitors, and customer preferences, Single Grain creates a roadmap for content creation, promotion, and distribution.
The benefits of a well-crafted content strategy include improved brand awareness, increased website traffic, better search engine rankings, and higher customer engagement, ultimately leading to more leads and conversions.
2. Content Promotion and Distribution
Single Grain's content promotion and distribution service focuses on ensuring that the content created for clients reaches the intended audience through the most effective channels.
They leverage various promotional tactics, including social media marketing, email campaigns, influencer outreach, guest blogging, and more, to maximize content reach and visibility.
The benefits of this service include a broader audience reach, increased brand exposure, higher website traffic, and improved lead generation, all of which contribute to the overall growth and success of a client's business.
3. Content Creation
The content creation service offered by Single Grain involves producing high-quality, engaging, and informative content in various formats to suit the needs of the client and their target audience. Their team of skilled writers, designers, and multimedia specialists ensures that all content is well-researched, search engine optimized, and visually appealing.
By providing valuable content that resonates with the target audience, clients can expect to see benefits such as increased user engagement, enhanced brand authority, and improved search engine rankings, which can ultimately lead to more leads and sales.
Customer support
Email

Social Media

Blogs

Podcasts
Conclusion
Choosing Single Grain for your content marketing needs brings a multitude of benefits. As experts in high-ROI content marketing campaigns, they offer comprehensive solutions from blog posts, case studies, and email campaigns to innovative web based content marketing. Their proven track record is evident in their impressive rankings on Google for competitive keywords.
5. Simple Tiger
Simple Tiger is a SaaS content marketing agency that only extends its services to SaaS businesses. Through its content marketing strategies, it attracts customers and subscriptions for SaaS businesses. In addition to providing content marketing, Simple Tiger looks into the technical aspects of websites to analyze any technical problems that may be a roadblock in successfully implementing a sound content marketing strategy.
Services
SEO

Keywords research

Link building

Content marketing

Technical Optimization

Paid advertising
Top 3 Services
1. Competitive Content Analysis
In today's fast-paced digital landscape, businesses must stay ahead of their competitors to capture and retain their target audience. Simple Tiger offers a comprehensive Competitive Content Analysis service that helps clients understand their competition and devise strategies to outperform them.
By identifying strengths and weaknesses in competing content, clients can optimize their content marketing efforts and achieve better results.
Simple Tiger's Competitive Analysis service provides clients with a range of features designed to comprehensively understand their competition. The service features competitor identification, where the content by main competitors is outlined for further analysis.
2. Keyword Research for SEO optimized content
The SEO experts at Simple Tiger conduct thorough research to chalk out the most relevant, high-impact keywords for their SaaS clients. Since every SaaS focuses on a different purpose, only relevant keywords will improve its cyber-presence and reach.
Simple Tiger searches and researches for relevant keywords by analyzing any currently used keywords. It conducts a comparative study to see how competitors market their SaaS and which keywords they use. Similar keywords are used to create SEO-optimized content for SaaS and achieve result-driven success.
3. Content Optimization and Distribution
With SimpleTiger's content optimization service, businesses can rest assured that their existing content is fine-tuned to perform better in every possible aspect. The agency focuses on various optimization areas, including site structure, internal link optimization, keyword optimization, and on-page optimization, to boost the content's overall performance. 
To supplement this, SimpleTiger also provides content distribution services, encompassing link building, paid search, and paid social services. This ensures that the content gets seen by more people, improving its search engine ranking and visibility.
Customer support
Conclusion
Simple Tiger is one of the few SaaS content marketing agencies that cater only to SaaS businesses. It provides clients with content creation and technical support to ensure no obstacles in an effective content marketing strategy. Thus, it caters to the needs of all SaaS regardless of their professional scale.
Table of Comparison
| | | | | | | |
| --- | --- | --- | --- | --- | --- | --- |
| | Link Building | Dedicated SaaS Marketing | Content Creation | SEO | Content Audit | Content Strategy |
| Stratigia | 🗸 | 🗸 | 🗸 | 🗸 | 🗸 | 🗸 |
| Kalungi | ╳ | 🗸 | 🗸 | 🗸 | ╳ | 🗸 |
| NoGood | ╳ | ╳ | 🗸 | 🗸 | ╳ | 🗸 |
| Single Grain | ╳ | ╳ | 🗸 | 🗸 | 🗸 | 🗸 |
| Simple Tiger | 🗸 | ╳ | 🗸 | 🗸 | ╳ | 🗸 |
The TakeAway
From individuals to businesses, everyone uses SaaS to make their lives and work easier. This need has led to an unprecedented rise in SaaS businesses, which require a robust SaaS content strategy to ensure business growth.
Our top recommendation for the best content marketing agency is Stratigia. We are an exclusive SaaS content marketing agency that completely understands how SaaS businesses operate and what they deliver. This understanding enables us to provide marketing strategies that best align with the needs and expectations of SaaS. You can learn more about us by contacting us today.
Frequently Asked Questions (FAQs)
1. How can a B2B SaaS marketing agency enhance my content marketing efforts?
A B2B SaaS marketing agency can significantly improve your content marketing efforts by crafting a custom marketing plan that is line with your business goals. Their team of experts uses data-driven strategies to create relevant types of content that resonate with your audience. Moreover, they employ effective SaaS SEO techniques to ensure organic growth of your online presence.
2. How does a content agency contribute to organic growth through SaaS SEO?
A content agency uses SaaS SEO strategies to optimize your content for search engines, thereby boosting your online visibility and driving organic growth. This involves keyword optimization, link building, and creating engaging, high-quality content that ranks well on search engine results pages. Over time, this strategy can significantly increase your website's traffic and conversions.
3. How can data-driven strategies from a B2B SaaS marketing agency help achieve my business goals?
Data-driven strategies provide valuable insights into what works and what doesn't in your content marketing efforts. By analyzing these data, a B2B SaaS marketing agency can refine your content strategy to better align with your business goals. This approach can lead to improved content performance, increased engagement, and ultimately, sustainable growth.
4. What is conversion optimization and how does it relate to content marketing?
Conversion optimization is a strategy that aims to increase the percentage of visitors to your website who take the intended action, such as purchasing a product or subscribing to a newsletter. In content marketing, conversion optimization may involve creating compelling calls to action, optimizing landing page designs, and providing valuable content that encourages your audience to engage with your brand.
5. What factors determine content pricing in a full-service marketing agency?
Content pricing in a full-service marketing agency is typically determined by the complexity of the content, the time it takes to create it, and the expertise required. Factors such as the forms of content needed (like blogs, videos, or infographics), SEO requirements, and whether you need additional services like marketing automation or social media management can also influence the price.