Every business wants to grow and there is one way of doing it; take it online and do tons of SEO everyday. Even the most demanded products and services will need SEO to stand out. This is also why many SEO experts and business owners ask what are the best SEO tools for SaaS?
There are hundreds of SEO tools you can opt for but to make a business large, one has to use the best SEO tools that serve the purpose. Business owners were able to sell on an international level during the COVID-19 period and it was all because of SEO.
You don't want to wait for another pandemic to grow your business, you just have to make use of the best SEO tools available. Finding the best can seem like looking for a needle in a haystack, but we did the digging for you and came up with a useful rundown that will work out for sure.
1: SEMRUSH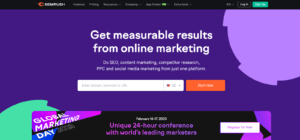 When it comes to finding the top ranked keywords, SEMRUSH is suggested by every person and search engine. Some of the biggest and most credible SaaS companies use this tool to find relevant keywords. SEO is mainly about keywords and this platform has turned out to be one of the best SEO tools for SaaS. 
Most businesses opt for SEMRush because it also analyzes the performance of your website. It tells where you need to fix or add things to make your website more SEO friendly. SEMRush also shows the keywords of your competitors and generates new ideas for killer content that will uplift your website. It also helps writers by suggesting SEO-friendly templates for content.
Features
SEMRush offers the best SEO tools and services which are as follows.
Keyword research
Competitor analysis
Content marketing
Social media management
Link building
Content creation and distribution
Content optimization
Paid advertising
Website monetization
Competitor SEO analysis
Top 3 Features
1: Social Media Management
The platform allows you to keep up with competitors' marketing techniques and also enables users to publish content with greater insights. You can also make use of social analytics and see every updated trend.
2: Competitor Analysis
This tool will allow you to keep your enemies closer and see how they work with their SEO strategies. This can also lead you to attract more organic traffic or better yet, magnify the competitor's traffic.
3: Keyword Research
SEO is majorly based on keywords and doing an extensive amount of research will make you seen more on Google SERPs. You can also do a keyword overview of the new fished out keywords and the current keywords on your website.
Price
SEMRush has the following price plans.
$119.95 per month for pro
$229.95 per month for guru
$449.95 per month for business
Conclusion
SEMRUSH provides effective ways of doing SEO for SaaS businesses or any business for that matter. The analysis made by SEMRush is equivalent to a complete audit of your site and it also shows how your current SEO is performing. It also suggests SEO practices that are fruitful and highly productive for your business in every way.
2: Ahrefs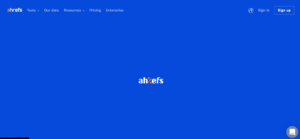 Ahrefs is considered as one of the top SEO tools. This is the tool that can boost any website's ranking within a few months or less. Your small business can even go international if you know every nook and corner of it. All SEO experts use this tool for maximum and satisfactory results.
The prominent feature of Ahrefs is that it gives you the option to conduct keyword research for ten different search engines. Ahrefs is also used by YouTubers and the folks you make a fortune on selling stuff on Amazon. It shows how your current backlinks are doing and also suggests what type of backlinks will bring in organic traffic. There is so much more on Ahrefs that will help your business get the right SEO kick.
Features
Ahrefs offers the best SEO tools and services which are as follows.
Content explorer
Rank tracker
Site audit
Keyword explorer
Backlink checker
Keyword generator
SERP checker
Traffic checker
SEO checker
Keyword rank checker
Top 3 Features
1: Site Audit
This tool works like a magic wand for all websites as owners and SEO experts can check on-page SEO and technical issues. This will allow companies to see which issues are becoming a hurdle in ranking.
2: SEO Checker
This is an all-in-all SEO checker that not only shows how your SEO strategies are working but also gives an analysis of your website's health. It shows 100+ issues related to SEO and also gives a detailed report of backlinks.
3: Keyword Rank Checker
Even though SEO is all about keywords, not all keywords give the same results. Some keywords can drag your website into a deep well. This tool will allow you to rank websites according to targeted keywords that bring in more traffic.
Price
Ahrefs has the following price plans.
$99 per month for lite
$199 per month for standard
$399 per month for advanced
$999 per month for enterprise
Conclusion
Ahrefs is very much opted by digital marketers and SEO experts around the world and we have also given you some good reasons to make you use it for your business. You can also find websites on Ahrefs which are similar to yours and follow their success path to achieve great results.
3: Keywords Everywhere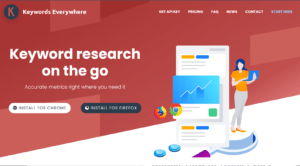 This is also one of the best SEO tools that are best for small businesses or new startups. It is for those who are just getting started with SEO and it is preferred by amateur SEO experts as well. For the newcomers, Keywords Everywhere is a great tool because you don't have to see backs and forths in your SEO results.
It also shows historical search volume from the year 2004; in this way, you can see past and evergreen topics. Just like the other SEO tools for SaaS, this one also shows website and page traffic but the only difference is that it is easy to use. It also shows complete details of data trends that will help you keep your head up in the game.
Features
Cost per click
Competition analysis
Search volume
Trend data
Website level traffic metric
Keyword research
YouTube metrics
Instagram hashtags
Backlink checker
Amazon keyword search
Top 3 Features
1: YouTube Metrics
YouTube is the second-biggest search engine in the world and people are now opting to start a YouTube channel before launching a website. You can also see the latest video insights according to your niche to stay updated with the trends.
2: Trend Data
Trends always repeat and that is why this tool will allow companies to see trends from 2004. You can also see ever-green trends and topics from this year or you can bring back the old trends yourself.
3: Amazon Keyword Search
People have been doing a lot of business on Amazon after the COVID-19 episodes. You don't need to buy or enroll in courses, you just have to do a good research on Amazon keywords and get started with your business.
Price
There is no per month or per year subscription, Keywords Everywhere price plans are based on pay as you go. 1 credit is 1 keyword, so it all depends on how many credits you use in a month, year or years.
Conclusion
This SEO tool for SaaS is best because it is cheap and you get a lot of credits for just one $10. You can also download its Chrome and Firefox extensions which come with a lot of features that help your business grow in the most organic way you can think of. It is also quite easy to use and it does not require a lot of technical knowledge.
4: Google Trends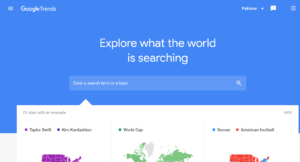 Google Trends is one of the top SEO tools since it is by Google and for Google so there is 0 doubt that it has to be the best. This tool is best for those folks who are into selling products and who have a website based on news.
Google Trends is reliable because its data comes from image search, web search, news search, shopping, Google ads and YouTube search which is pretty much everything that the world revolves around. You can do immense research on the basis of country, time range, data source and category. Category rundown is ample so try different combinations of searches.
Features
Google Trends offers the best SEO tools and services which are as follows.
Market research
product research
Keyword research
Trend variation by location
Trend variation by year
Improve online and marketing advertising
Niche finding
Seasonal trends
See trending contents
Google trends for YouTube
Top 3 Features
1: Keyword Research
Ranking on Google and doing keyword research on Google is like putting cherry on top. Google will show website owners what keywords are used most. It will show the relevant topics that are trending on the internet.
2: Season Trends
Keeping up with the trends will allow companies to stay on top level SERPs at all times. Make sure that your trends are according to the niche. You can use this tool along with niche finding side by side in order to avoid side tracking.
3: Trend Variation by Year
You can predict the trends by using the trend variation by year feature. All you need to do is set the year filter and see the trends of that era. You can revive the old trends with the latest things and you can also see ever-lasting industry trends as well.
Price
Google Trends is free!
Conclusion
Since it is free, people choose this SEO tool for SaaS. This is because it also looks for niches for products and even services. This free tool also shows different ideas for social media and content marketing which makes it attractive. It is easy and simple to use. You can also make use of Google Analytics and trend predictions with this tool.
5: Answer the Public
If you are looking for the best SEO tool for SaaS then this one will stop the digging for good. You can optimize your website in different ways with Answer the Public. It is best for all types of businesses because they get to know their audience and also see what people are looking for.
You can say that this tool actually throws a light on people's needs and you can get an exact idea what kind of content you need to come up with. With such information, you can plan your SEO strategies accordingly. All you have to do is enter a keyword and see different emerging topics and subtopics as well.
Features
Monitoring and getting suggestions for new content ideas
Competitor analysis
SEO insights
Market research
Learn about user intent
Allows SEO experts to create niche relevant content
Keyword research
Content marketing
Consumer research
Competitor analysis
Top 3 Features
1: Learn About User Intent
People would create some of the most useful and amazing content, sometimes, they cease to miss the user intent and all the hardship goes in vain. This tool will allow you to see what type of content the users want to see – allowing SEO experts to keep user intent in mind.
2: Niche Relevant Content
This tool will identify the spots to hit; you can find the right content that is highly relevant to your niche. This will bring ease for SEO professionals to stick to the latest niche-specific content and always stay updated with trending niche contents and topics.
3: SEO Insights
SEO has been using almost the same pattern for quite a long time and it only requires consistency. Professionals need to keep an eye on any latest news, trends, tips and tricks of SEO – this tool will enable them to do so.
Price
Answer the Public has the following price plans.
$99 per month for starters
$79 per month for standards
$199 per month for expert
Conclusion
AnswerThePublic has is wondrous for people who have a blogging website and are always looking for new content ideas. We suggested this one because it also shows subtopics of the trendy contents. You can also do daily searches on Answer the Public for free by just signing up from your gmail account. The paid subscription also comes with video courses that teach everything about SEO.
6: Sitebulb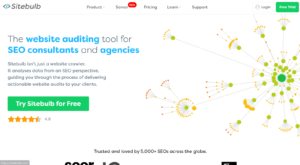 This SEO tool for SaaS is best for growing businesses that need different kinds of SEO tools to see a good success rate in their sales funnel. Sitebulb also helps with technical SEO as it has the feature of Crawl Every URL. This feature helps with understanding the issues and the most clickable parts of every page of your website.
One of its best features also includes prioritize SEO Issues, which shows what kind of errors your current SEO strategy has and it also suggests better strategies. Technical SEO is not easy but with Sitebulb, you can report on your whole website concerning SEO.
Features
Sitebulb offers the best SEO tools and services which are as follows.
JavaScript crawling
Audit comparison
Understanding the data
Indexability
Website crawlers
URL explorer
Data visualization
Duplicate content detection
Backlink reporting
SEO issues reporting
Top 3 Features
1: Data Visualization
See all data and information concerning your SEO results and patterns; it will allow users to see how much applied SEO strategies are working. Users can easily make sense and understand such huge volumes of data via graphs and charts.
2: Duplicate Content Detection
Since dead and old trends keep coming back; it becomes hard for companies to not duplicate content. Finding the same content on the website can take ages and this tool works like a spy and generates a full report on the same content – allowing you to get rid of any redundancy.
3: SEO Issues Reporting
Very few platforms actually tell you which SEO strategy may not work – this tool will help you to see the weak point of your website. This will allow you to make better SEO-based decisions for your business.
Price
Sitebulb has the following price plans.
$135 per year or $13.50 per month for lite
$378 per year or $35 per month for pro
Conclusion
Sitebulb allows people to do difficult work in an easy way. Reading reports can be boring as watching the paint dry but with this tool, you can understand reports within minutes and decide what steps to take for the best SEO master plan. It is the best SEO analysis tool when it comes to reporting, crawling and many other things that you need to try them out yourself.
7: MOZ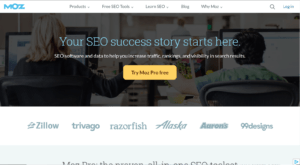 This SEO tool has been helping SaaS companies grow and expand their business since 2004. MOZ has served some of the most known companies. It provides useful SEO insights and trends that will help your business be visible to the right people. 
It also allows you to manage your local SEO plans. We recommended MOZ because it provides more than 50 SEO tools that will give you a complete overview and profound analysis of your website. It will help you in constructing the right strategy for your business.
Features
MOZ offers the best SEO tools and services which are as follows.
Keyword research
Rank tracking
Site crawl
Content optimization
Link research
Analytics and reporting
SEO insights
Technical site audits
Duplication closure
Review management
Top 3 Features
1: Content Optimization
The best content in the eyes of a reader is when it is very much readable – the same content needs to be best in the view of Google as well. This can be achieved by making a content fully optimized and this tool will come in handy.
2: Technical Site Audit
Have you ever wondered what seems to be wrong when there is a good-looking and well-functioning site with a good number of readable content and it is ranking fast! The problem may be with the technical issues of your site, this tool will highlight all such issues and let you decide what to do next.
3: Rank Tracking
In Google's world, no website is a forever trophy holder. You can use this tool to see your progress and also see when the rank is going down. This will let you come up with new SEO strategies to beat competitors and get back in the game.
Price
MOZ has the following price plans.
$99 per month for standard
$179 per month for medium
$299 per month for large
$599 per month for premium
Conclusion
WIth MOZ, you can optimize your site in every possible way. Link building may be easy but seeing which link doing is best is the hardest part. MOZ offers the feature to track and analyze a list of backlinks. It shows which one is useful and which one needs to be removed. MOZ is good for all sizes and types of companies.
The TakeAway
Making this listicle was not easy because all of them are the best competitive analysis tools. These SEO tools for SaaS are compatible with different niched businesses. Either you have a small business, growing, or a startup, this rundown will help you to find what suits you best.
If you are looking for a complete SaaS SEO package then Stratigia is your go to company. We would unquestionably go with Stratigia because they are all-in-all with SaaS. Everything they do is for SaaS based businesses and clients can cut the introduction and start working on their SEO strategy right off the bat. The company turns visitors into actual customers. 
You can benefit from Stratigia by their SaaS-specific services which include SaaS link building service, SaaS content marketing service and SaaS SEO service. You can get a price quote by contacting them and their experts will suggest the best solution for your SaaS project to grow.