SaaS businesses around the globe, whether small firms or large companies have one common goal: boost sales. This is where things can go downhill, undermining the potential of marketing. Most SaaS firms are better off without marketing if they have the star product with the perfect product-market fit. 
No matter what functionalities and features your product or service offers, no one will avail of your services and products if they are not marketed adequately. Diminishing sales, poor customer retention, and shrinking market share are repercussions of ignoring the need for marketing. 
If you are running a SaaS business, the SaaS industry is highly competitive. The cut-throat competition can't be beaten alone with excellent services and exceptional products; there is a need for a top-notch strategy. 
Lastly and most importantly, your SaaS business should partner with SaaS consulting agencies because they help increase brand visibility. The leading platform that SaaS businesses use as a medium of information, communication, and promotion to their target audience is search engines like Google. SaaS consulting agencies enhance your brand visibility on these platforms with the help of different SEO efforts and strategies. As a result, they are leading your business website in higher SERP ranking and increasing web traffic. More eyeballs mean more business catch, and the more prospects it attracts, the SEO strategies make your business bankable. 
4 Top-Tier SaaS Consulting Agencies 
SaaS consulting agencies are the one-stop solution for promotional activities. SaaS companies are benefiting from them in multiple ways, as mentioned above. Now that we have discussed the pros of partnering with SaaS consulting agencies, let's look at the best SaaS agencies for SaaS marketing. 
1. ScienceSoft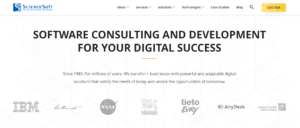 ScienceSoft is a globally popular SaaS consulting agency. Starting in 1989 ScienceSoft has matured and revolutionized its consulting services to cater to the SaaS business of today's world. 
Sciencesoft has provided its consulting services to numerous businesses across the globe and industries. Some of the big names in the client list of ScienceSoft are IBM, Deloitte, NASA, eBay, Nestle, Saudi Aramco, and Rakuten Viber. In addition, ScienceSoft is a recognized platform, and organizations offer consulting services from tech unicorns to audit & finance giants. There is no doubt about the credibility and excellence of service provision by ScienceSoft. 
Top 3 Services
Under the service umbrella of ScienceSoft, there are numerous service provisions a business SaaS business could avail of. These services are tailored to assist businesses in multiple operations, but for now, we will focus on its service offering in Marketing & Advertisement. So first, let's look at the most excellent services of ScienceSoft. 
1. Advertisement Planning 
ScienceSoft helps SaaS firms by providing them with the service of advertisement planning. This service allows businesses to have a single platform for planning all their promotional activities. In addition, this platform enables businesses to combine promotional results so that they can be analyzed easily; this allows them to strategize and execute promotional activities quickly. 
2. Marketing Data Analytics 
The service of marketing data analytics helps SaaS businesses in numerous ways. This service allows businesses to conduct and collect insights from consumer surveys so that they can be identified what the factors and drivers of promotion growth are. 
Marketing data analytics also assist SaaS businesses in analyzing their overall performance of promotional campaigns. This helps business marketers by giving insights and how promotional strategies should be created. 
Marketing data analytics helps businesses visualize how effective the promotional activities are going. Additionally, marketing data analytics helps businesses by enabling them to conduct sales and marketing forecasts through the predictive model. This allows marketers to better understand the growth capabilities of promotional campaigns; this also will help marketers set promotional objectives for the foreseeable future. 
3. Social Marketing Solution 
Among the most impressive services of ScienceSoft is its social marketing solution. This service aims to provide SaaS businesses with providing them with marketing software. 
Firstly this service helps SaaS businesses to make their customer acquisition easier. This service ensures customer growth organically through social platforms. The marketing software developed by ScienceSoft helps SaaS businesses track the customers' activities, so a more customer-centric approach could be adopted for promotional activities. 
The marketing software of ScienceSoft can be easily integrated into the social media platforms of SaaS businesses. This helps businesses with quick executions of social media campaigns. In addition, this service of ScienceSoft focuses on lowering customer acquisition costs and optimizing promotional activities that increase customer growth and customer retention. 
Pros 
Numerous service offering 

One of the most respected and experienced SaaS consulting agency 
Cons
Not preferable for small businesses and startups 

Expensive service charges
Pricing
For pricing details, contact ScienceSoft.
Contact
Reviews
ScienceSoft has received fantastic reviews for its service offering, especially when it's come to SaaS advertisement and promotions. In addition, SaaS businesses that are clients of ScienceSoft loved their exceptional services, which makes ScienceSoft one of the most recommended SaaS consulting purposes. 
Conclusion
ScienceSoft is one of the best SaaS consulting agencies. They have decades of experience in SaaS consulting agencies. They have A-list business organizations as their clients—the best and most prominent businesses around the world trust ScienceSoft. They also offer IT operations, enterprise, and customer relationship management services, making them fabulous all-round performers. 
2. Launch Space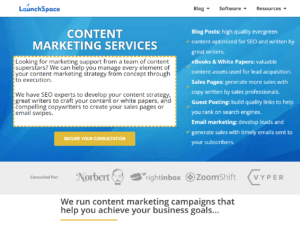 Launch Space is among the renowned SaaS consulting agencies. Launch Space has helped several businesses gain the brand recognition they always wanted. Launch Space has a team of SEO and content marketing experts that can help your business with subtle promotional success. 
Top 3 Services
Launch Space has stunning services that help your business gain web traffic, eventually leading to cash flow. These services are best for your SaaS business. Let's have a glimpse of their services. 
1. Content Auditing
The content auditing service is designed to analyze your website's content in depth. The analysis helps Launch Space to understand the loopholes and weaknesses. After the analysis, the web content is organized. New opportunities are looked after. 
Content analysis and auditing also help in keyword analysis. When the website is redesigned, special care is given to keyword research and usage. The keywords that can uplift your SERP rankings and SEO score are used. 
2. Blog Creation
Launch Space provides the service of blog creation and content updates. The blog post helps your SaaS business in numerous ways. First, the attractive and informative blogs launched by Launch Space help your SaaS websites gauge more surfers. 
Launch Space regularly updates content, and search engine crawlers are hard to satisfy, which is why content updates are necessary. Content updates ensure that your web content is always up to the mark. 
3. Custom Sales Pages 
Sales pages are essential for converting surfers into customers. If your business needs help capitalizing on sales pages, try Launch Space. Launch Space allows your business to create sales landing pages that can do business for your SaaS brand. 
Pros
Expertise in Content Marketing

Expertise in SEO 
Cons 
No digital marketing services are available. 

Limited services for SaaS businesses 
Pricing 
Pricing details can be known by contacting Launch Space. 
Contact 
Contact can be made through their website. 
Reviews 
Launch Space has helped several SaaS businesses boost their SERP ranking and SEO score. Launch Space is among the best consultants for SaaS marketing and brand growth. Launch Space is highly reviewed and regarded by SaaS businesses. 
Conclusion
Almost every problem regarding SaaS marketing your business faces can be solved if you avail of the services of Launch Space. So don't waste your time; get service quotes from Launch Space right now. 
3. Apollo Digital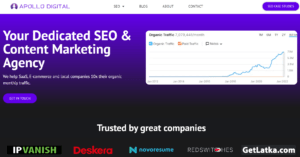 Apollo Digital is a globally recognized SaaS consulting agency. Apollo Digital provides SaaS businesses with the finest content marketing solutions. Your organic traffic can skyrocket with the services offered by Apollo Digital. 
Apollo Digital has assisted several SaaS companies with content marketing and SaaS consulting services. So whether your SaaS business wants increased traffic, top-quality backlinks, or great PPC campaigns, everything can be provided by Apollo Digital. 
Top 3 Services 
Apollo Digital provides exceptional content marketing services. These services can be best for your SaaS business. Let's glance over the services offered by Apollo Digital. 
1. Managed SEO 
The services of Managed SEO provided by Apollo Digital can be super helpful for your business. In this service package, every procedure is followed to ensure a great SEO campaign. 
The first step of this service is a Technical SEO audit, where strategy is created, and room for improvement is monitored. Then, services like content creation, keyword research, and link building are followed. At last, the progress of the SEO campaign is tracked. This service of Apollo Digital ensures SEO practices from A-Z. 
2. Content Creation 
One of the most crucial things for a SaaS business is its web content. Apollo Digital knows it, and that's why they have the best content creation services. The content creation service of Apollo Digital helps your business from Content research to publishing, so all you need to do is to sit back and relax. 
3. Link Building
Link building can be a headache, but you don't have to worry about it; everything is being taken care of with Apollo Digital. Every step, from analysis and gathering suitable prospects to customization, ensures an inch-perfect link-building campaign for your SaaS business. 
Pros 
Preferred for Large SaaS companies 

Preferred for Startups for rapid growth 
Cons
Expensive Service Charges 

No SMO (Social Media Optimization) services are available
Pricing 
Pricing charges depend on services being availed 

Content Packages range from 4,000 Euros to 12,000 Euros 

Monthly Link Building package: 3000 Euros 
Contact 
Apollo Digital can be contacted on its website. 
Reviews 
Apollo Digital has received outstanding ratings and reviews due to its remarkable services. Businesses around the world trust Apollo Digital for its excellent services. This platform is among the top-rated SaaS consulting agencies. 
Conclusion 
Apollo Digital is among the leading industrial SaaS consulting agencies. If you want your SaaS business to get recognized early on, then choosing Apollo Digital is preferable for you. 
4. accelerate agency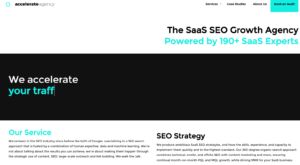 accelerate agency is one of the top guns in SaaS consulting. accelerate agency has provided its services to numerous clients. One of the biggest aims of accelerate agency for its clients is to boost their organic web traffic and help their clients in achieving content marketing success. 
Top 3 Services
accelerate agency provides its SaaS clients with excellent SEO-related services; these services have helped SaaS businesses across numerous industries broaden their consumer base. Let's have a look at services that accelerate agency provides. 
1. SEO Strategy
accelerate agency strategizes SaaS businesses' SEO campaigns. Numerous procedures are followed to ensure that businesses' SEO campaigns deliver beyond expected results. These steps include qualitative and quantitative research, analysis of current web content, content modeling, content creation, and reporting of achieved SEO objectives and work optimization. 
2. Link-Building and Outreach
The link-building services provided by the accelerate agency are fantastic. accelerate agency have reputable partners from which they obtain links that have high authority. These links are then used in the web content of accelerate agency's clients. One of accelerated agency's top priorities is that their clients enjoy outstanding Digital PR. 
3. Onsite Content 
accelerate agency leaves no stone unturned when it comes to onsite content management. As a result, SaaS businesses' onsite content is more than secure with accelerate agency. The umbrella of onsite content services includes optimization, content creation (blog management), internal linking, content mapping, and many more. 
Pros
Trusted by SaaS companies like Sage, BrightPearl, and PandaDoc 

Provisions of Technical SEO services
Cons
Expensive Services Charges 

No provision of digital marketing services 
Contact
Review
accelerate agency has earned great respect for its service provision. They are highly recommended and rated SaaS consulting agencies. Their reviews for service provision have always been excellent. 
Conclusion 
accelerate agency provides several excellent services to their clients. If you own a SaaS business, you can easily trust them as your SEO partner. They have been in the field of SEO for a long and the excellent results their clients benefit from are evident. 
The TakeAway
SaaS consulting agencies have become popular worldwide. The apparent reason is that they can do promotional and marketing wonders for SaaS businesses that no expensive advertisement can do. So don't miss this opportunity and avail SaaS consulting services now if you want to attract your target audience. 
If you are looking to improve your SaaS business, then there is no place better than Stratigia. We are a SaaS marketing agency that provides tailored solutions for the challenges that your SaaS business may face. Explore our services now and make the most out of your SaaS business.