Overview of Remindax ( Expiration / Appointment Reminder SaaS)
Remindax offers a user-friendly solution for arranging your expiring documents into neatly organised folders, making them simple to categorise and locate. Its interface is both straightforward and comprehensive.
The Problem – Not getting enough organic value
Remindax came to us because they were not getting enough value from search traffic / SEO. They have some organic traffic, but its number is low, and it's not driving many conversions.
The Solution – Bottom Funnel Optimization
We developed an SEO optimization sprint for Remindax that included optimizing several existing landing pages and creating new landing pages and blog posts.
A – Landing Pages Optimization
Optimized several existing landing pages that were underperforming. 
B – Add new Landing Pages
Added several new landing pages to expand on the reach and capture all potential intent-driven search queries. This helps us have a dedicated landing page for all the different/unique ways a potential prospect might search for software like Remindax.
For example, it is an expiry and appointment reminder software.
C – Created Several Topically Relevant Blog Posts
Remindax lacked the quantity and quality of blog posts. To support our bottom-funnel SEO optimization, we created some intent-driven blog posts to build on topical authority and pass in relevant internal links to the landing pages.
The Results – 2x Traffic + Page 1 ranking for a lot of intent-driven/bottom funnel keywords
A – Improvement in Organic Traffic
The overall organic traffic of Remindax doubled in just a few months
B – Added new pages that started driving intent-driven traffic
Many of the newly created and previous landing pages started to rank for intent-driven keywords.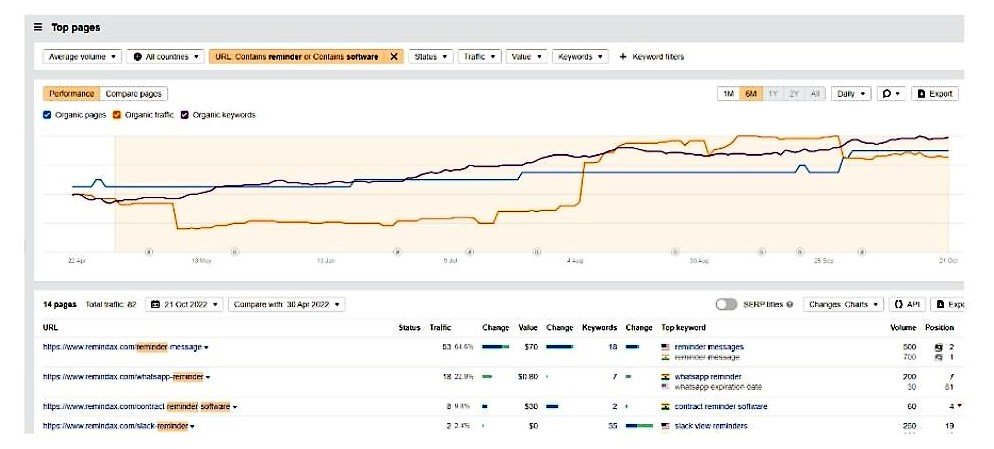 C – Primary Keyword Ranking shot to the Top 5
They were never ranked for their primary product keyword before late 2021. They appeared late in 6-10 pages but could never move beyond that.
From our initial optimization, they were quickly able to jump to position 28

And ultimately, the top results

If you're a SaaS company seeking to expand your Content Marketing efforts, reach out to us now to receive an outcome-oriented SEO and Content strategy tailored to your SaaS.