Overview of Back In Stock (Back in stock notification SaaS app for Shopify)
As the name suggests, Back In Stock is a Shopify App that lets store customers know when a certain product is available. It lets Shopify merchants automate, notifying prospects when the product is available.
The Problem / Challenge – Not getting any value out of their Shopify listing
Back In Stock was successfully launched and approved in the Shopify store, but they weren't getting any conversions. There was some traffic, but none of it was converting.
The Solution – Optimize Shopify Store Listing
Before starting the optimization, we did thorough keyword research to identify how merchants might search for a product like Back In Stock on Shopify.
And once we had the information, we revised the Shopify listing to incorporate all those relevant keywords.
The Results – 171% increase in traffic and 100% improvement in conversions
A – Traffic & Conversions Growth
After the optimization, the Back In Stock App started seeing significant growth in traffic and, most importantly, started getting conversions.
B – Dominating Top Rankings on Primary Intent-Driven Keywords
And to this day, they are still dominating 1st rank on the most important keywords (even because of the limitations of being just on Shopify)
C – Earned Natural High-Quality Backlinks
Although all credit goes to their team for putting up an impressive product that Shopify merchants loved, they were mentioned by Shopify in their blog several times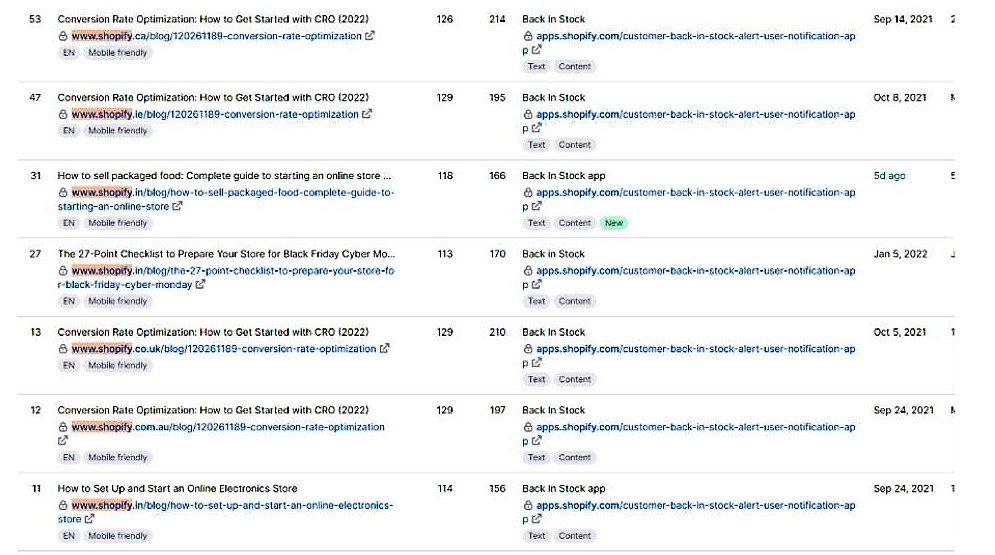 If you are a SaaS or Shopify App in need of an SEO Strategy that prioritises MRR leading to successful conversions, don't hesitate. – Reach out today to get a customized SEO Strategy tailored for your SaaS.