Overview of Delta Monitoring (Monitoring & Evaluation SaaS) 
Delta Monitoring is an Enterprise SaaS company that provides Monitoring and Evaluation Software for global NGOs and Social Development Organizations, mostly in the African Continent. Delta Monitoring software is highly adaptable and comprehensive, making it ideal for meeting development projects and program planning, monitoring, and evaluation requirements.
The Problem – No existing SEO Value for this SaaS
Since being present in most of these regions, Delta Monitoring was getting most of their results and traction from the existing network. They were not getting any value out of their website and it was badly optimized as well.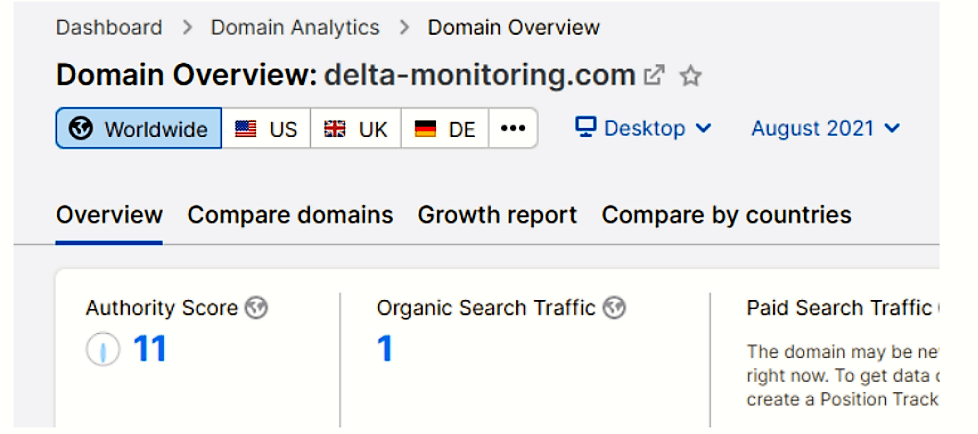 The Solution – Bottom Funnel Optimization
Since they were getting all their business from direct sales and referrals, they never put enough effort into their website, let alone SEO. So they needed a lot of work as far as updating their website to be optimized for SEO. 
So this is what we did.
A – Optimized all existing pages 
This included optimizing Page Titles and Descriptions

B – Added Delta Monitoring on Software Directories
Although Software Directories don't directly relate to SEO benefits, it was an essential part of the SEO strategy to put the product in all relevant directories.
C – Acquire a few Backlinks
And to top it off, we acquired several high-quality links for them
The Results – first-page ranking on the primary keyword in 3 months
1st Page Ranking for Primary Keyword / Commercial Keyword, within 3 months
Significant increase in traffic and all on the targeted / intent-driven keywords
And all of this without creating any new content but ensuring that the website is optimized to attract the right type of intent driven traffic.
If you are a SaaS company looking to position SEO in line with your business goals, contact us today to get an MRR-Driven SEO Strategy that puts your product in front of the best audience in search of results.