SaaS has become an ever-growing market, and it has become time for SaaS entrepreneurs to leave a mark. Promoting your SaaS business is slightly different from traditional marketing and advertising.
The core of every marketing and advertising strategy includes SEO. However, traditional SEO is different from SaaS SEO strategy – it is a bit confusing.
The SaaS SEO strategy has to be super scalable and proactively robust, which helps in improving search engine rankings. When it comes to building and planning a SaaS SEO strategy, there are no rules. Various techniques work differently for SaaS niches, so you must try every SaaS SEO strategy.
Investing in a well-planned SaaS SEO strategy will make your competitors check out your website. This is because the applied SaaS SEO strategy will bend the curve. In this blog, we will explore the different strategies that can help augment the growth of your SaaS business.
1: List Your Goals
This is the first step of creating a SaaS SEO strategy, and this may sound boring, but it is a very realistic approach. You will be surprised to know that all huge companies have done it and they do it every year to decide about their annual goals.
Listing down your goals will make you understand what are the main parts of your business where SEO should focus. This will lead to better and faster ROI – you will know what web page should be bombarded with heavy SEO.
2: Know Your Targeted Audience
Doing SEO without understanding your audience will surely get thousands of visitors to your SaaS website, but it will not be worth it. Since you will target a random audience, the bounce rate will increase, and your ranking will get low.
This part of the SaaS SEO strategy is essential. To know your audience, you need to see who would want to buy your product. This way, you will also know what content to post on your website concerning your SaaS project.
3: Look for Potential Competitors
In this part of the SaaS SEO strategy, you don't need to get scared of your competitors – you need to see what they are doing. You can see their most ranked blogs and their website's analytics.
The whole point of listing down your competitors is to learn from them. The competitors have already set the benchmark; you can increase the level with the right SaaS SEO strategy.
You can also see how your competitors have ranked their page, what keyword list they primarily use, when they post updates, etc. Following their footsteps may seem wrong, but still, you are doing it in your way – so there is nothing to be ashamed of.
4: Find the Top Ranked Keywords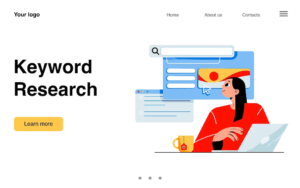 This is the most crucial step of any SaaS SEO strategy since all search engines feed on keywords. There are different and easy-to-find keywords, but what matters is that one finds the top-ranked and most talked about keywords. There are paid and free ways of finding keywords for your SaaS website.
The free way to find keywords is via Google Keyword Planner or Google Trends. The paid way to find keywords is via various SEO tools. Therefore, we suggest you invest in paid tools and compare the keywords fished from the free keyword-researching platforms.
Having content on keywords hunted in both ways will help you get organic traffic. Speaking of SEO tools, stats show that Semrush was the best SaaS SEO company in 2020 and had an annual revenue of 125 million U.S. dollars.
There is one more thing to keep in mind when looking for keyword ideas. If your SaaS project is for local customers only, you will have to narrow down your keywords but ensure they are brief. On the other hand, if your SaaS project is for global customers, your keyword research will be extensive and more competitive.
5: Identify the Customers' Problems and Suggest Solutions
Before heading towards making content, you need topics. The topics are based on the issues and problems people face – you can suggest a solution by showing how your SaaS product can help them eliminate their issues. You can create a solid SEO strategy by finding out about customers' problems and issues via surveys, Q&A websites, social media, and analytics.
Hundreds of paid and free SEO tools show you the latest and trendy topics. You can use those topics to make relatable and different types of content aligned with your SaaS product. We suggest you don't keep up with unnecessary or unrelatable content, as search engines will consider it clickbait. You need to be in search engines' good books.
6: Create SEO Powered Content
We have seen websites with very little content, but they still rank on the first page of search engines. This is because those websites have followed nits and bits of SEO. Even if your website needs to be more catchy and your content is meaningful or informative, your SaaS website will take off and never see the landing strip.
There are so many ingredients to cook the best, most informative, and highly readable content – it becomes a powerful content/blog post. A single blog can make your website get more clicks furthering paid customers and endless possibilities. Some things include a table of contents, proper use of headings, search intent, font size, font style, spacing, and adding pictures.
If we go more profound, more things include adding the target keywords, long tail keywords, LSI keywords, semantic keywords, placing the relevant keywords most naturally, and avoiding keyword stuffing. When you do all of this in every content/blog post, most of the SaaS SEO strategy is mostly done. This will allow you to market content faster, create compelling content strategies, and reach more audiences.
7: On-Page SEO
On-page SEO is a cardinal part of SaaS SEO strategy because this will give a boost to your content. Its counterpart is off-page SEO which we will discuss after this, but on-page SEO is more significant. On-page SEO involves heading titles, meta descriptions, meta titles, image optimization, alt text, and data structuring. You will soon be seeing better results at Google Analytics.
In the heading titles, you have to make sure to add at least one main keyword. The meta description can be seen under the meta titles in gray color. You must ensure that the meta description is under 155 – 160 characters, and the main keywords should be included. Meta titles are the names of the web pages that are seen on search engines.
You can optimize the image by compressing it, choosing the right size, and adding alt text in the images. Lastly, data structuring in the content refers to adding bullets, numberings, subheadings, and a good font style and size. We suggest you look at the top-ranked websites of similar niches and see how they structure the content.
8: Off-Page SEO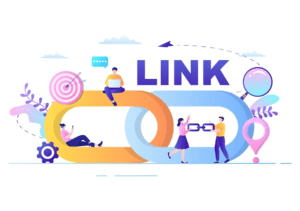 As we stated before, off-page SEO is a counterpart of on-page SEO – both go side-by-side to create the best SaaS SEO strategy. Off-page SEO means the actions done outside the website but linked with your website.
This will promote your business; off-page SEO includes getting and creating backlinks by uploading guest posts; this will get your website a lot of referral traffic and reach target customers.
You can also get backlinks by answering difficult but relevant questions on Q&A websites. Make sure that those websites are authentic and it has tons of organic traffic coming daily.
This can also be done by commenting on different posts on social media. You can also update newsletters and press releases to keep your customers and visitors updated.
Off-page SEO also includes getting reviews from customers. This can be difficult, but politely ask your customers to leave a review or, better yet, post their reviews on your website (with their consent). You must make a Google Business profile to step up on off-page SEO. It is easy and makes a digital footprint of your business.
To make a solid online presence, you need to be available on leading social media platforms like Facebook, Twitter, Instagram, YouTube, LinkedIn, TikTok, Pinterest, and such. Share your website content on all of these platforms.
9: Update Technical SEO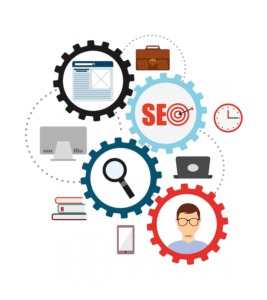 Always be careful when you are fixing or updating technical SEO. Many websites have great content and are eye-catching, but for some reason, they are not getting visitors.
This happens due to technical SEO needs to be fixed. Technical SEO involves broken crawling, indexing, internal links, mobile optimization and friendliness, and slow loading of web pages.
If your website is not interlinked properly, the user can become irritated – this will also enhance user experience and boost the sales funnel. The URL of the web pages is made a hyperlink in the main keywords.
These hyperlinks can also be added to top-ranked semantic keywords. Search engines love those websites that are super responsive (mobile friendly). The more you pay attention to this part, your rankings will increase.
We also suggest that you make sure that there is no duplicated content, heavy/uncompressed images, or heavy videos because that slows down the loading of the web page. According to Google stats, visitors only wait 4 to 5 seconds for the page to load; if this doesn't happen, they go to a different website. So, doing all this will ensure that your website is loading fast.
10: Conduct an Interview
For some reason, people love seeing people discuss or, better yet, fight over a topic. We are not suggesting you conduct a rigorous interview but find a professional in your niche and make a video.
This can be done by making a list of the top players in the market and offering them to set up an interview in return for exchanging links and creating link building strategy. This is a win-win situation for both websites. Their traffic can also visit your website, and you get to learn a million things from your competitor.
11: Create Infographics
Adding infographic content can make your website launch to the moon. This is because infographics are highly readable and striking since they are colorful, and animation is a plus point. Nowadays, people are dissing written content and focusing on making engaging infographic content.
This will make your SaaS SEO strategy more effective and help you get more organic traffic on your website. Make infographic content and make it shareable – the visitors themselves populate your website and aid in attracting more visitors.
12: Create Free Tools
Doing this will turn out to be a game changer for your SaaS SEO strategy. This is something that SaaS websites usually don't do, but if you follow this suggestion, your website can get millions of visitors in less than a month.
Let us say that your SaaS product is about calculating website speed, you can offer a free tool, and if the visitors like it, they will surely get a paid version. If the visitors really-really like it, they will surely share a link with their folks, and you will solidly see good traffic coming in.
13: Schedule SEO Audit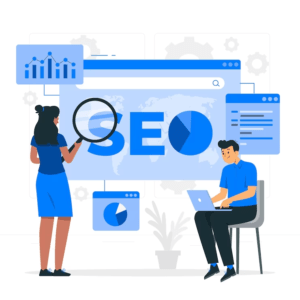 You will want to see what kind of results your SaaS SEO strategy is producing. This can be done by conducting regular and technical SEO audits – it is suggested that you conduct an SEO audit at least twice a month. You can do SEO audits of content, on-page, off-page, technical and local SEO.
The SEO audit includes seeing opportunities for improvement in link building and website architecture, finding thin content and removing duplicate content, optimizing the metadata, checking the speed of all web pages, and scanning for site errors. These are just the basic things of SEO audit, which are good enough for your website for years to come.
The Bottom Line
Making the perfect SaaS SEO strategy is not rocket science. It is easy, but it is something that you will have to give a lot of time and attention to. If you implement these parts of strategies one by one, your website will soon see greatness.
If you want your website an instant boost of SEO, then contact Stratigia today. We help to improve every aspect of SEO based on SaaS. Our company has a team of experts who will huddle up to develop a SaaS SEO strategy that will produce better results for your business.