With a booming digital world, you need a solid marketing strategy if you want your SaaS product to be recognized among the masses. SaaS SEO agencies are leading marketing services providers, including search engine optimization, content marketing, email marketing, and link building for many brands.
We delve into an expansive overview of some of the best SEO SaaS agencies that have made their metal in SEO and delivered results to their clients.
1. Stratigia
SEO for SaaS is not only crucial but also an exclusive process. SaaS businesses focus on recurring revenues, so the best and most effective SEO strategy will enable them to generate recurring revenue and profit.
Founded in 2017, Stratigia was established with the vision of helping SaaS businesses rule the search engines and attract conversions and qualified leads without temporary or "artificial" methods. Stratigia has worked closely with hundreds of software companies to boost conversion rates and brand visibility.
Being a well-rounded SaaS SEO company, their expert team helps to analyze and audit any existing SEO strategies for their clients. With their proven SaaS marketing services, you can develop a service that aligns with your business KPIs.
Services
SaaS SEO services

SEO auditing

Reviewing existing SEO strategies

Tracking the efficacy of existing SaaS SEO plans

SaaS link building

Lead Conversion

Link quality analysis

Content keyword and quality assurance

Formulation of content marketing strategy

SaaS SEO Content creation
Top SEO Services
1. SEO Audit and Analysis
A thorough analysis of existing SEO for any SaaS is the most crucial step since it determines what SEO strategies will be adopted to enhance its online presence, traffic, and conversions. Regardless of a SaaS business's goals, an SEO audit is the first step.
In a thorough, in-depth analysis, the SEO team at Stratigia conducts a "forensic" audit of where your SaaS stands regarding its SEO power. They see the business's current MRRs or organic traffic and where you wish to see it. This information gives the SEO consulting services a better chance for your brand to expand your B2B SaaS company.
2. Link Building
The links you have added to your website or ad content significantly affect your search engine ranking. Therefore, link building is more than necessary regarding SEO for SaaS. If your SaaS content has high-quality links embedded in the content, it will help better your website's ranking. Stratigia offers its clients excellent inbound and outbound links, which can aid in search engine crawling and drive more sign-ups.
Their team of experts creates a wide range of quality content that the audience demands, with appropriate links embedded in targeted keywords.
3. Content Marketing
Content creation and marketing work hand in hand to promote a B2B SaaS company. A good content marketing strategy focuses on driving more customers by explaining the company's motives in depth. Furthermore, a functional and effective content marketing strategy aims to create relevant, insightful content for real readers searching for solutions.
With a team of SEO enthusiasts equipped with the best SEO practices and the uncanny ability to create content that touches your heart and the search engines, Stratigia's content marketing services ensure your SaaS generates the targeted organic traffic and leads without compromising quality.
Pricing
You can get a quote for your custom plan.
What Makes Stratigia Stand Out
SEO and its fruitful results do not unfold overnight. A successful SEO strategy takes time to unfold, implement, and give desired results. However, this is possible only when the SEO process is well-constructed and well-executed.
Stratigia stand sout as one of the very few SaaS SEO agencies that chalk out a well planned SEO strategy after thorough audit and consideration. Although all SaaS agencies keep their clients in loop regarding their expectations from an SEO process and where they wish to see their business, Stratigia's process shines out with a thorough analysis of any previous SEO efforts done for the SaaS and their results.
This provides sufficient data and information to understand the dos and don'ts, elimiantes guesswork and helps the SEO experts narrow down their options and strategies and implement the best and most effective one. Additionally, Stratigia maintains focus on increasing conversions and MRRs for their clients instead of promising random numbers to land a project. While clients are usually impressed by fix figures of conversions or signups, Stratigia prefers to lose a client than to make high and false claims and quote "numbers" in a fixed timeline.
Conclusion
As a B2B SaaS provider, Stratigia can also create an effective strategy for increasing website traffic and improving sign-ups and trials. Because SEO preserves the face value of your products, SaaS SEO services are in high demand. And we all know that anything that looks great sells well. However, you can now stand out by collaborating with Stratigia, one of the leading SEO SaaS services.
2. Smash Digital
Smash Digital is your way to go if you want to rise above your competitors and be the next big in the SaaS market. This is another of the best SaaS SEO agencies that helps B2B SaaS companies establish groundbreaking SaaS plans. This SaaS SEO agency allows brands to build a steady base for their SaaS marketing services.
By working closely with other SaaS businesses, Smash Digital helps brands grow through great backlinks. If you hire the best SaaS SEO agency, you would expect that they treat your brand as their own. Smash Digital carefully administers your brand and reinvents your existing SEO strategies.
Long story short, an SEO audit from a SaaS SEO agency that understands what it takes to start a project is quite levitating for any B2B SaaS company. And with Smash Digital, you can ensure you have a smashing SaaS marketing strategy that uplifts your SaaS product.
Services
SEO analysis

SEO Consultancy

Content rejuvenation

Content marketing plans

SEO audits

Content analysis

Link building
Top 3 Services
1. Link-Building
Smash Digital is a full-service SEO agency staffed with industry leaders who are uniquely qualified to assist you in updating your old SEO strategy. With incredible research of existing processes, their staff can assist you in identifying any gaps and developing a realistic and efficient SEO plan for you. This ensures that your brand image remains strong, so your lead conversion rate improves by many folds.
2. To-the-point Service
As their motto suggests, Smash Digital SaaS SEO agency takes great pride in its "no-BS" services, which will assist you in resolving all of your SEO-related concerns in one go. They also provide SEO consulting services to their clients to ensure that both parties are on the same page. In addition, they offer dependable services to their clients by combining exceptional link-building skills with content marketing and maintenance.
3. SEO Audit
According to 24% of SEO practitioners, in-depth SEO and particular content tactics significantly impact search engine rankings. But how can you know your SEO strategy will work until you conduct a thorough audit? Smash Digital, on the other hand, offers fantastic SEO auditing services to SaaS companies, ensuring your website ranks well while pushing in more organic traffic.
Pricing
The basic package starts at $2500 per month
You can get a quote for a custom package
What Makes Smash Digital Stand Out
The moment you open their website, the engaging content and catchy lines grab your attention and never let go. Their range has an instant impact and is a fine example of persuasive copywriting. The subtly hilarious content keeps you on your toes, rooting for some exceptional services ahead.
Conclusion
Almost all B2B SaaS companies employ a full-stack SEO agency to assist them in developing a successful marketing plan. You can also hop on the SEO for SaaS bandwagon without investing much money. Get your SEO SaaS plan from Smash Digital and grow your brand exponentially.
3. Minuttia
Getting a marketing partner who provides you with the same old customer-grabbing strategies is not enough for B2B SaaS companies. Therefore, special SaaS SEO agencies must be tracked down for this job. One such best SaaS SEO agency is minuttia. They have a complete board of employees working together to achieve a successful marketing strategy.
From content creation to SEO audit, you need someone who has a complete hold on every emerging trend regarding SaaS growth. Minuttia especially helps B2B SaaS companies work on their organic reach and improve their MQL. These professionals ensure that deliverables, such as organic traffic and lead generation, are meticulously fulfilled.
They also work on product-led marketing campaigns to improve the search engine ranking of your SaaS website. You can contact them through their website to attain their services.
Services
Latest technology utilization

MQL conversions

Content strategizing

Link-building services

Content creation and analysis

SaaS SEO services

Content audit
Top 3 Services
1. Boosting Organic Growth
Being original never goes out of style! Maintaining originality in your brand's growth is vital to making your place among your competitors. Organic growth is synonymous with long-term customer retention. Minuttia ensures you work on your organic growth by focusing on good attention-grabbing keywords and a solid SEO plan. You can also boost your organic growth with their special SEO services.
2. Lead Conversion
What's the point of a marketing partner if you can't drive in more sales, right? The SaaS SEO agency you hire must know about lead-generating SaaS marketing services. With minuttia, you can focus on improving your MQL leads. These leads are often generated for sales and result in quick product purchases. The primary goal is not retaining customers but introducing your brand to them.
3. Content Marketing Strategy
Minuttia works closely to provide a successful content marketing strategy for SaaS SEO agencies. As explained earlier, they work to accelerate organic growth through SEO. As you know, on-page content is prominent in maintaining transparency between your brand and customers. With the help of this performance marketing agency, you can create content that becomes your brand's voice.
Pricing
You can contact them on their website for a price quote.
What Makes minutta Stand Out
Minuttia earns a point in providing different tiers of services as per their clients' expectations and requirements. There are two types of service tiers, i.e. the Zero to Great and the Great to Best-in-Category. The Zero to Best service category is for clients who seek SEO services from scratch or have been unsatisfied with their previous service providers.
The Best-in-Category is for those who already have a functional SEO strategy at hand but wish to accelerate to a robust plan that helps drive more conversions and SQLs. We assume that the two tiers will have different types of services and definitely different price options, but it seems workable considering the fact that clients have more freedom to pick a service tier without lengthy consultations.
Conclusion
You need to hire a full-stack SEO agency to keep ahead of the competition. Minuttia is one such agency that works closely with B2B SaaS companies to develop an effective marketing plans for them. They have a long list of satisfied customers, and if you want to start with an SEO audit and content production, they are your best bet.
4. Directive Consulting
As the name suggests, Directive Consulting is another of the best SaaS SEO agencies to make your product one of the best ranked on a search engine. Directive consulting works as a close SEO consultant for your in-house marketing team and helps them fill in the gaps. The SaaS market is flourishing rapidly.
This makes it essential that your SaaS SEO agency provides you with well-versed SaaS marketing services. Through a variety of techniques, such as experiments, technological implementations, and constant training, Directive Consulting helps to work on your SaaS growth.
Their analytical approach towards SaaS marketing has helped B2B SaaS companies improve their organic traffic engine and uplift new technology operating. Directive Consulting mainly focuses on sale generation strategies through SQL-based SaaS SEO strategies after the trial or sign-up step. With repetitively improving SaaS marketing services, digital marketing agencies build a new outlook for your brand.
Services
Core page SEO

Content consolidation

Keyword gap analysis

Blog optimization

Content creation and design

AI content creation

Internal linking

Site and mobile optimization

Technical SEO audit
Top 3 Services
1. Core Page SEO
Directive Consulting enhances the on-page copy of your website, meticulously ensuring it is rich in relevant keywords, engaging, and valuable for the reader. They craft content that speaks directly to your audience, solving their problems and encouraging action. Additionally, they offer content audits to identify opportunities to streamline and consolidate pages that may be competing with each other for search visibility or are redundant.
Whether you're launching a new product, entering a new market, or highlighting a particular aspect of your company, they work closely with you to design and develop new SEO-friendly core pages, align with your brand, and effectively communicate your message.
2. Content Marketing
To streamline your digital assets, Directive Consulting engages in content consolidation, meticulously auditing and refining your existing content to ensure it's aligned with your current SEO strategy and avoids redundancy. Their experts conduct a thorough keyword gap analysis, identifying potential opportunities for your competitors to outperform you and determining where you can gain a competitive edge.
Understanding the value of existing content, Directive Consulting is adept at legacy blog optimization. They specialize in custom "tool" creation and link building to boost your site's authority. They develop unique, valuable resources that other sites will want to link to, enhancing your site's authority and SEO performance.
Their team of skilled creatives creates content and designs, producing visually appealing and engaging content that resonates with your target audience while adhering to SEO best practices. They focus on performance content to drive conversions and move the needle for your business.
3. Technical SEO
Data visualization is another intriguing product Directive Consulting provides its clients. This provides clients with real-time insight into where they are in terms of their digital footprint. Each customer can work on optimizing the visual appearance of their brand and developing a more robust content marketing strategy with more sales-driving design with their advanced data channel design.
Pricing
You can book an intro call to quote a price.
What Makes Directive Consulting Stand Out
With a straightforward approach in everything from design to information architecture, Directive Consulting's theme and layout emanate strong "we mean business" vibes. Not only this, Directive Consulting promises some critical SEO services that are bound to yield desirable results (if done right). Although several SaaS content marketing companies offer AI-based content creation to stay up-to-date with technological advances, Directive highlights it for some extra impact.
Conclusion
You'll need a simplified marketing plan even if you've just launched a SaaS product or added a new feature to the market. Top-tier SEO for SaaS services from Directive Consulting can boost your SaaS product's market presentation. This way, you can make your SaaS product memorable while scoring more potential clients.
5. Skale
Skale is also one of the best SaaS SEO agencies in the market. They work alongside the marketing teams of B2B SaaS companies and help them plan an extraordinary SaaS strategy. Skale is also a great performance marketing strategy, ensuring revenue growth and business enhancement.
You can ensure you implement an effective SaaS strategy through bi-monthly meetings to discuss the latest SEO for SaaS strategies. Your company's marketing partners should be vigilant of the latest trends regarding SaaS SEO practices. Through Skale's excellent SEO plans, you can now adopt a critical marketing strategy to improve the recognition of your software as a service.
Services
Link-building services

SEO Consultancy

On-page optimization

SEO revitalization

Marketing consultancy

SEO analysis and management

Lead Generation Strategies

B2B SaaS content marketing strategy
Top 3 Services
1. SEO Revitalization
Who doesn't want to be evergreen in the corporate world? However, how will you remain relevant if your SEO approach is ten years old? By examining your current SEO methods using Skale, you can rebuild your website and give it a new look. Their experienced counsel would assist you in increasing customer retention and reorganizing your priorities. They may also help you incorporate new and exciting SEO methods for more extraordinary website advancement.
2. Lead Management
Skale also focuses on MQL and SQL lead generation to help you scale your business with top-tier SaaS SEO tactics. Their powerpack team drives impact and works closely with you to analyze your material to see if it is search engine friendly. This guarantees that your website's health and aesthetics are impactful, increasing your chances of turning a website visitor into a purchaser.
3. Content Assessment
Make adjustments that will have a long-term positive impact on your brand's image. You may identify your mistakes and develop successful content marketing tactics by thoroughly analyzing your current material. Skale enables businesses to hit their targets quickly by prioritizing efforts and improving keyword searches. They optimize content and perform SEO audits and other practices to boost your SaaS SEO.
Pricing
You can contact them through their website for a custom quote.
What Sets Skale Apart
Skale is an all-action, no-nonsense SEO SaaS agency focusing solely on driving MRRs for clients minus the bells and whistles. Due to these qualities, it has attracted a good rapport among clients. Skale intends to answer maximum questions in one go with a simple layout and self-explanatory process outlines.
Conclusion
Almost all B2B SaaS companies employ a full-stack SEO agency to assist them in developing a successful marketing plan. Skale SEO for B2B SaaS brands offers comprehensive SaaS marketing services to boost your internet presence.
6. Simple Tiger
In the ever-competitive SEO Saas market, you can only make a mark if you are a perfect blend of visual and performance marketing. Simple Tiger intends to offer just that. A premium SEO SaaS agency that promises results through white-hat SEO techniques only, Simple Tiger has earned a respectable reputation due to its promise of flawless services in the best and legit manner.
Services
Keyword research

Content marketing

Technical Optimization

Link building

Market analysis

Paid search

Paid social
Top 3 Services
1. Keyword Research
Keywords are the fundamental backbone of any SEO process. Experts search for the most trending keywords in a niche and incorporate them into content and landing pages naturally and effectively. These keywords help a SaaS reach the top of the search results and earn the desired conversions and leads.
Simple Tiger works to identify and fill any keyword gaps in the existing content. Their SEO teams perform a competitive analysis to see what works for other SaaS businesses and what keywords they use to achieve that rank. Utilizing similar keywords and SEO techniques, Simple Tiger ensures that their client stay on top of their game with the best keywords by their side.
2. Technical Optimization
Ensuring a smooth browsing experience is as essential as having the proper keywords. Without an optimized website with the best user experience, even your keywords might not make their intended impact. Through technical optimization services, Simple Tiger's technical SEO team performs a detailed analysis of the overall website and technical aspects of the SaaS.
A site's architecture, speed, and optimization are some elements considered and analyzed. The experts issue regular reports and insights with their clients to keep them updated on the progress and identify problem areas worked on.
3. Content Marketing
Simple Tiger promises unprecedented growth and conversions by employing a robust content marketing strategy that includes optimization, utilization of keywords, and competitive analysis. A thorough audit of existing content allows them to understand how content generates MRRs for competitors and what must be avoided.
Content marketing is a crucial process in an effective and functional SEO strategy. Using proper keywords in insightful and problem-solving content, SaaS businesses can generate massive benefits and reach the apex of success.
Pricing
Simple Tiger allows clients to schedule a free demo to try their services before signing up.
Guidance: $4000 – $7500 per month

Growth: $7500 – $30,000 per month

Dominance: $30,000 – $150,000 per month
What Sets Simple Tiger Apart
SaaS business owners are busy people. When searching for the perfect SEO solution for their SaaS, they're busy AND worried people who would prefer to have the maximum knowledge before them as they browse a website. What makes Simple Tiger stand out is how it conveys maximum information in a streamlined way without making it too cluttered or irrelevant.
Not only this, Simple Tiger boasts a white-hat SEO technique which, although almost every SaaS SEO agency promises, it mentions to raise awareness among clients and highlight itself as an exclusive SEO SaaS agency.
Conclusion
Simple Tiger is one of the premium SEO SaaS agencies that boasts white hat SEO techniques to increase leads and conversions for your SaaS. With elaborate services and additional perks of paid media, Simple Tiger is trying to check all the boxes of an approachable and preferable SaaS SEO company and succeeds to some extent, too.
7. Embarque
We all love a straightforward approach to our solutions. From seeking services to searching for products, we are instantly attracted to companies or brands with a clean, clear, yet elaborate range of services. This is what makes Embarque stand out, too. Embarque has rightfully earned its place in our list of the best SEO SaaS agencies owing to its diverse services solely focused on SEO and content marketing. Minus all the hassle, long promises, and topsy-turvy graphics, everything about Embarque is crisp and focused.
Services
Ghostwriting

SaaS SEO

Copywriting

SEO audit

Keyword research

Outsourced SEO services

Guest posting

Content writing
Top 3 Services
1. SEO Content Services
The pivotal role of content in skyrocketing your SaaS is not a secret anymore. What matters is the quality of content produced and how well it ranks using SEO techniques and optimizations. Writing must check all the boxes of engagement, SEO keywords, insight, and technicalities to reach the top of the search results. At Embarque, the SEO content experts understand all this.
This is why they have a vast and diverse list of services, all primarily focused on content creation and optimization. Embarque offers content services to companies of all sizes and scales to extend their remarkable content specialties.
2. SEO Audit
Embarque employs an extensive process to audit your SaaS's SEO and identify its shortcomings. While it might sound simple, the process involves several aspects that must be thoroughly analyzed and improved. For a complete, functional SEO audit, experts need to uncover the problems in content or the website's structure.
It so happens that a website with faulty links or architecture will fail to rank, no matter how powerful content it features, and the other way around. Therefore, it is crucial to check where the problem lies. Embarque does precisely that. It researches the ranking keywords that competitors use. It adds them across content naturally to make your SaaS a strong contender in the market.
With the right keywords and the right content at hand, Embarque promises visible results in the form of ranking and conversions.
3. Keyword Research
Keyword research is vital to effective SEO, focusing on uncovering terms users input into search engines to enhance website visibility and ranking. A robust keyword strategy delves into high-volume, low-competition keywords and understands user intent, aligning keywords with various stages of the buyer's journey.
Embarque offers a detailed keyword research service, starting with analyzing competitors' keywords to identify market gaps. Their methodology includes sourcing keywords for various user intents, ranging from informational long-tail queries for blogs to purchase-driven keywords for sales pages. Emphasis is placed on top-of-funnel (TOFU) and bottom-of-funnel (BOFU) content to cater to audiences at different stages.
Beyond research, Embarque crafts an SEO content calendar using a pillar-and-cluster strategy to expedite ranking and establish authority. They also employ keyword tracking tools integrated with Google Search Console to gauge keyword performance, uncover overlooked opportunities, and understand conversion paths.
Pricing
1-month Plans

Optimize: $1500 per month

Catapult: $2799 per month

Bespoke: Reach out for a tailored price plan

6-month Plan

Optimize: $1349 per month. Billed at $8094 every six months

Catapult: $2520 per month. Billed at $15120 every six months

Bespoke: Contact sales for a tailored quote.
What makes Embarque Stand Out
Almost every SEO SaaS marketing company offers SEO audits, keyword research, and content marketing services. However, Embarque takes it further by offering several other services, such as Guest posting and ghostwriting.
With so much to offer, Embarque has become a benchmark SEO SaaS agency that does more than generic content services.
Conclusion
Embarque strives to make its mark as a preferred SaaS content marketing provider. With additional services that other SaaS marketing agencies might provide but do not mention on their websites, Embarque manages to attract some limelight. However, there is more to a SaaS agency than outlining and publicizing services. This probably might be where this agency needs to improve. With higher prices and too short time frames, Embarque might be putting itself in peril.
8. Growfusely
If you want to be "SaaSpired," reach out to Growfusely. A SaaS marketing agency that takes off with a clever, witty, yet to-the-point call-to-action, this Indian company earns a point right there regarding clean advertising and convincing visitors.
This SaaS content marketing agency is another company aiming to deliver insightful, ranking content for your SaaS that can help you earn better visibility into Google's search results and achieve higher conversions and MRRs. The processes and services are the same as any other SaaS marketing company. Yet, we shall analyze the goods or the not-so-goods and where this company stands.
Services
Link building

Content marketing

Content writing

Digital PR

Landing page design

Infographics

Technical SEO

SEO audit
Top 3 Services
1. Link Building
Link building is a critical process in crafting a functional and successful website. As the name suggests, the process entails building "links" to strengthen the overall outreach of a blog, landing page, or website to reach a greater yet relevant audience. The process is much more complex than it appears, and only the experts can make the desired impact using link building.
Growfusely makes its mark as a successful SEO company by providing straightforward, valuable services that allow clients to improve their visibility into niche-specific areas and enhance conversions. Through extensive link-building techniques such as glossary, feature pages, and more, Growfusely ensures no stone is left unturned in providing your SaaS places where it deserves to be.
2. Technical SEO
While engaging content and keywords are essential in improving SEO for a website; the technical aspects are equally crucial. Improving UX for pages, managing and overseeing the crawlability of a page, and fixing any issues are practices that ensure a smooth user experience and ensure the page is ranked without any roadblocks.
With all the necessary technical expertise and techniques, Growfusely promises clients a smooth website operation. The experts use tools such as Google Analytics and the Search Console to manage websites. They suggest improvements in speed and vitals to remove any hindrances.
3. Content Writing
From a spectator's standpoint, content creation might be a piece of cake. You just have to put keywords here and there and present a piece to your client. It's pretty much like baking a piece of bread: same ingredients, same technique. As a SaaS SEO agency or client, this notion is the first step towards SaaS-suicide.
"Content" is perceived to be blogs or landing pages. However, it is a lot more than that. Product listicles, glossaries, How-tos, and other resources all come under the umbrella of content writing and hold immense importance in helping a SaaS website rank high. Growfusely understands these basics and incorporates them in its content writing services to offer SEO-optimized, insightful content that impacts Google and the real people directed to the page through Google.
Through unique content that aims to solve problems, Growfusely promises better leads for its clients.
Pricing
Reach out to Growfusely for a price quote and discussion of services.
What Sets Growfusely Apart
Growfusely succeeds in impressing its audience in several ways. The user interface, description of services, and range of services leave site visitors impressed and convinced that this SEO SaaS agency knows its stuff. The services offered by Growfusely strengthen its credibility as a SaaS-only SEO agency. All processes and aspects of individual service are adequately explained without fluff.
Conclusion
Considered an underdog by some critics, Growfusely is a SaaS marketing agency swiftly making its mark among people for its convenient navigation and promising services. What we need to know, however, is how many satisfied clients they have globally and the competitive prices they offer. Nevertheless, it is safe to say that Growfusely is one of the few remarkable companies out there.
9. Accelerate Agency
Developed by passionate individuals keen to solve SEO problems for people out there, Accelerate Agency intends to accelerate conversions and MRRs for their clients. The SEO SaaS company focuses on SaaS businesses and provides technical SEO and content writing services.
Services
SEO strategy

Link building

Onsite and offsite content

Technical SEO

Onsite SEO

SaaS website migration

Keyword analysis

Content optimization
Top 3 Services
1. SEO Strategy
Crafting a strategy that boosts a SaaS website's SEO is the primary function of every SEO SaaS agency. The difference exists in the areas of improvement identified and worked on and the strategy's effectiveness. Accelerate Agency employs a 360° approach to encompass all aspects of SEO and present a robust strategy.
These include keyword gap analyses, optimizations, and link-building services. Using quantitative and qualitative methods, the SEO team audits your current SEO standing and what must be done to improve it. Based on your budget and preferences, the SEO team can work as an extension of your marketing team, recommend the best practices, or work independently and produce content for you.
2. Content Services
From content strategizing to creation, Accelerate Agency promises everything. The SEO company boasts an extensive team that produces engaging content for your SaaS. Additionally, they can get you featured on some of the top-ranked review websites and other resources, such as HubSpot and G2.
Whether you go for onsite or offsite content depends solely on your preferences. The team at Accelerate Agency is ready to work with you based on your choices.
3. Link Building
Accelerate Agency proudly utilizes its PR with influential websites such as HubSpot, Moz, and BigCommerce. It offers to place carefully crafted client content on these websites for even better outreach and an X factor.Extensive PR and practical outreach abilities are vital for an impactful link-building strategy. Building links anywhere will not produce the desired results, so content and connections matter.
Pricing
Accelerate Agency offers exclusive price plans for individual clients based on the services they require or the overall landscape of their SaaS. You can book a call on their website to learn more about their price plans.
What Makes Accelerate Agency Stand Out
Accelerate Agency earns a point for its clean marketing skills. The website features its services and its success stories in an equal share and proportion. Accelerate Agency doesn't shy away from highlighting its achievements as a SaaS SEO agency of choice for several influential names such as HubSpot.
Conclusion
Like other SEO SaaS agencies on our list, Accelerate Agency also provides SEO services with the same intention of improving MRRs and SQLs for its clients. There are minor differences in what they have to offer. However, with the "brand" names of some influential websites such as HubSpot by their side, Accelerate Agency intends to attract more clients.
10. Breeze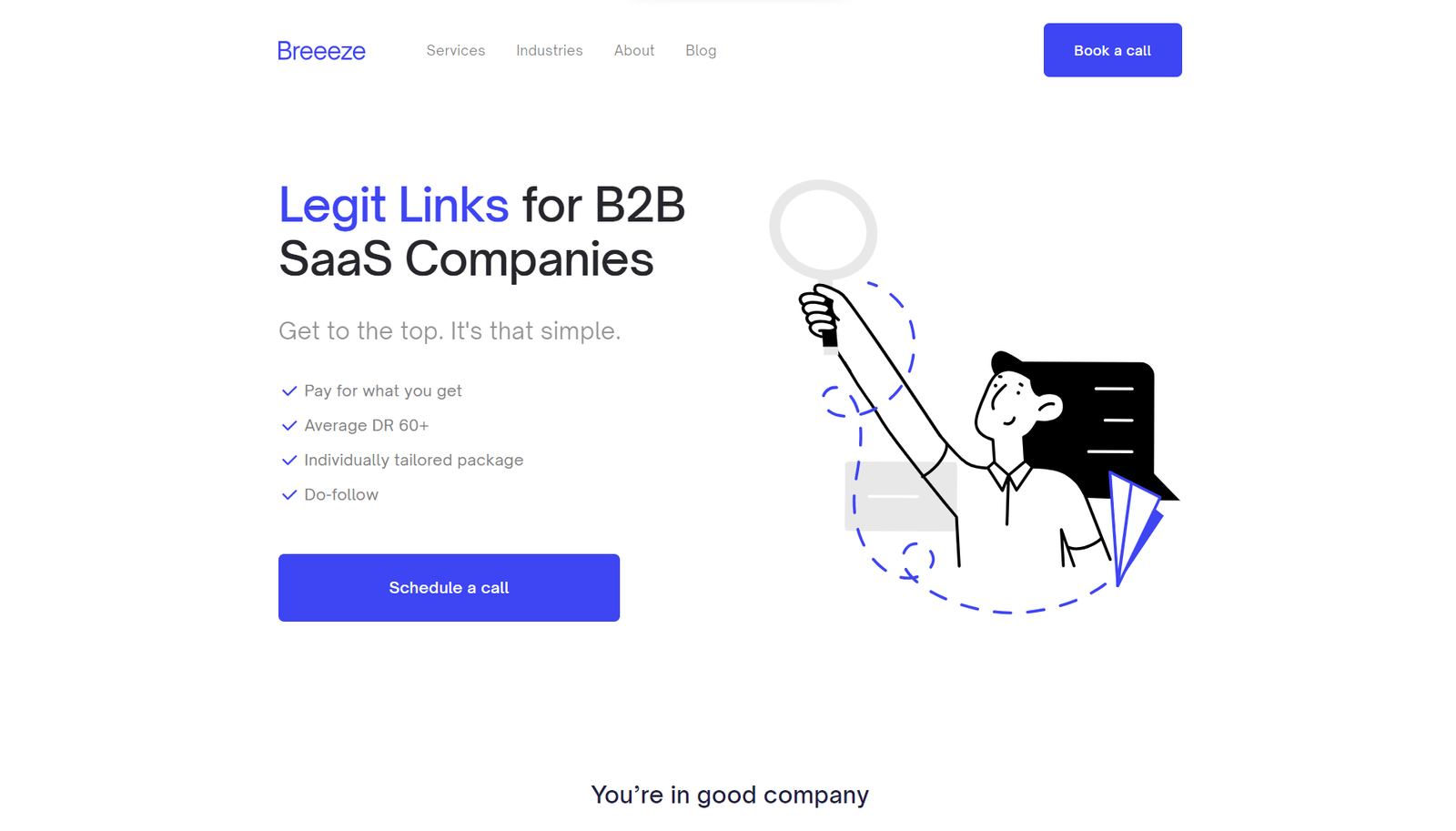 Founded in 2019, Breeze aims to simplify the complicated world of SEO for large and small businesses. Leveraging cutting-edge technology and unparalleled expertise, Breeze aims to empower companies to achieve their digital marketing goals quickly and effectively.
Services
Link Building

Technical SEO

SEO Management

Content Strategy and Creation

Local SEO

Competitive Analysis

SEO Audit

Keyword Research

Analytics and Reporting
Top 3 Services
1. Link Building
Breeze's link-building service is second to none. Their link-building processes adopt a multi-faceted approach that combines traditional outreach methods with modern automated tools to help you gain high-quality, relevant backlinks. Each link is carefully vetted and reviewed for quality, relevance, and impact.
Competitor analysis is a proven method of identifying opportunities for your SaaS link-building process. Breeze employs this method to see high-potential, ranking keywords for competitors to incorporate into your pages.
2. Technical SEO
Technical SEO is the foundational process of any successful SEO campaign. Breeze offers a complete technical SEO package covering everything from website architecture to speed optimization. The technical SEo experts use a combination of manual checks and automated scans to identify any areas for improvement, ensuring a seamless user experience and maximum visibility on search engines.
As mentioned above, technical SEO makes websites more responsive, mobile-friendly, and updated with proper links and tags. Hence, any keyword ranks quickly and immediately without hindrance.
3. SEO Management
SEO Management at Breeze encompasses a full-service approach, handling every aspect of your SEO strategy, from planning to implementation. They adapt strategy in real-time, employing an agile methodology, ensuring optimal results. End-to-end SEO management service means you can focus on your core business activities while Breeze handles your online visibility.
Pricing
Breeze offers tiered pricing to suit the various needs of businesses. Each package provides different services tailored to your needs and includes a free initial consultation.
What Makes Breeze Stand Out
Breeze makes SEO a breeze with its go-with-the-flow type price plans which allow users to pay on a pay-as-you-go model that suits small businesses or startups with limited resources and can scale their services as they progress. Such price models also allow for a better understanding of the service providers and whether they are a good fit for the SaaS business.
Conclusion
Breeze promises similar services as other SEO SaaS agencies. However, as a relatively new company in the market, it needs more testimonials and reviews to strengthen its position as a reliable choice for SEO. Nevertheless, its services and processes appear promising, and we hope the company lives up to all its promises.
The TakeAway
To conclude, SaaS SEO agencies have a prominent role in maintaining a solid online presence and brand image of B2B SaaS companies. These digital marketing agencies have a significant role in building the face value of any software as a service. Through well-versed SaaS SEO services, not only can SaaS businesses improve their search engine ranking, but they also can focus on better lead generation.
Stratigia has provided multiple SaaS marketing services to numerous B2B SaaS enterprises. Being the best SaaS SEO agency, Stratigia assists in developing a long-term SaaS growth strategy, from SEO for SaaS to content marketing strategy. Furthermore, you can rely entirely on them for SEO consulting. They assist you in effectively achieving your business goals by developing scalable and dependable SEO audit and analysis solutions.
You may now choose our top-tier SEO for SaaS services by estimating a specific fee for your unique work. Enter the realm of new SaaS technologies and endless possibilities by targeting the relevant traffic with specialized SaaS marketing services.