Are you a newly hired SaaS SEO content writer who wants to improve your performance? Unfortunately, you may need some fundamental knowledge about SaaS content writing. But worry not, as we have the best guide to writing SaaS content to help you polish up your SaaS content. 
The SaaS industry is booming exponentially, but only some of the software has become the audience's favorites. So to stay relevant and enhance the company's market value, a SaaS content writer must have a good grip on SaaS content writing. 
Whenever someone has to acquire software as a service, they look at the team's online activity or how successful they were in getting their ideas across the room. After checking off these concerns from their list, a user may lean toward buying or subscribing to your software.
Everyone wants to ensure that the thing they are investing in will help them in the long term. Hence, you must know the facts associated with SaaS SEO content if you wish to become a SaaS content writer or hire one. 
How Is Saas Content Writing Different From Regular Copywriting?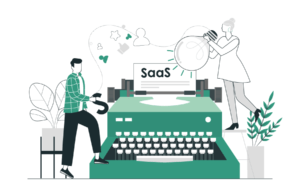 Many things surrounding the SaaS SEO content writing topic need to be clarified. So let's bust these myths together! When it comes to SaaS content writing, it is more focused on producing content that drives long-term leads and generates a good load of website reach for the brand. Whereas regular copywriting states how well the content generates an instant purchase. 
A SaaS content writer is more focused on creating content that targets a larger audience. But when we talk about regular copywriting, it is more like a sales pitch and works on grabbing the user's attention. A copywriter works on persuading the reader to buy instantly. 
Search Engine Optimization is two-fold and more critical in the case of SaaS content marketing as compared to regular copywriting. What's important here is that a SaaS content writer should focus on creating engaging content and giving premium importance to the targeted software. 
Is Saas SEO Content Essential To Skyrocket Your Web Traffic?
We previously discussed how SaaS SEO content is highly distinctive and essential for helping your brand stand out. But is it genuinely helping your company grow?
Almost everyone is familiar with Hubspot; it is one of the world's top content creators and marketers. They have such well-aligned content tactics that you might not even notice when they urge you to buy their product.
But what are they doing to maintain their leadership position in the SaaS market? Their only magical potion is SaaS SEO content writing. As we know, SEO SaaS company services are highly targeted and product-specific. It has a subtle emphasis on answering questions and finding appropriate solutions to the target audience's primary pain points.
And when you give what your audience wants while also resolving their difficulties, they feel more connected to you. This contributes to increased website traffic, leading to increased lead conversions.
Top 10 SaaS SEO Content Practices To Try Out
Let's talk about the important aspects of SaaS SEO content writing that can lift up your content and brand image. Here are the top ten SaaS SEO content practices you can follow for better results.
1. Focus On Strategic Keyword Research
One thing that tops our list of helpful SaaS content marketing strategies is using keywords. 
Yes, keywords are small phrases or words that are most relevant to your topic and help to rank your website or blog on a search engine. 
To land in the top 10 of any SERP, it's important you focus on your keyword research. Many apps, such as SEMrush and Google Keyword Planner, can be used to research the most relevant and frequently used keywords for your content piece.

But can you use any relevant keyword for your SaaS product? The answer would be no; you can't use any other keyword in your content piece. There are two things to consider when mining for relevant keywords which are keyword difficulty and keyword search volume.
Ideally, a selected keyword has minimum keyword difficulty and maximum search volume. A more difficult keyword would lower your SEO, reducing your chances of appearing in search engine result pages (SERPs). 
Moreover, instead of only using single-word keywords, you can add relevant phrases highlighting any query, making your SaaS content more specific. Such keywords are known as "long-tail" keywords and are readily used along with short-tail keywords.
2. Research On Your Target Audience 
You can't go the hit-and-trial route when it comes to SaaS content. First, you need to know who you are targeting. What are your objectives? And what makes you relevant to the audience? This also includes thorough research on the demographics of your target audience. 
You can browse your competitor's website to learn what type of content is enjoyed by them so that your SaaS material is focused on the right audience. In addition, you must be aware of your target audience's gender, age, geography, and language. This allows you to create authentically enhanced SaaS content that speaks to the intent of a broader audience.
You can also build a hypothetical buyer persona. This concerns a person who would be a possible customer for your SaaS product. The buyer helps identify what creative content could be included in your SaaS SEO content to improve your search engine ranking.
3. SEO for Lead Conversion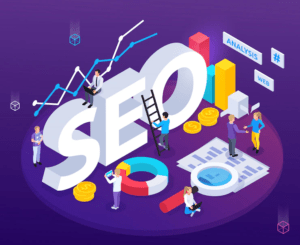 Search Engine Optimization (SEO) is one of the most common words when reading anything related to SaaS or marketing content. Search engine optimization is a set of practices that can help boost your brand's ranking on search engines like Google, Yahoo, or Bing. 
Search engines work on an automated algorithm and use the seed and extend the method to screen and find the best match for your searched query. If your SaaS SEO is done right, you will become known for your product. 
When your content has keyword-rich headings and sub-headings, your content appears more optimized according to the search engines. One more tip for improving the SEO of your SaaS content is including your searched keywords in meta titles and meta descriptions. 
But is search engine optimization only limited to adding keywords? No. You can also enhance your content according to SaaS SEO standards by carefully embedding relevant external and internal links to your online content. This way, SEO link building not only enhances your CTA sign ups but also answers all possible queries from your site visitors.
SaaS SEO and content marketing significantly affect any SaaS business's lead conversion and click-through rate. We also provide our clients with outstanding SaaS SEO services that can help them rank their SaaS product or service on any search engine in no time. 
4. Multi-Funnel Content Strategy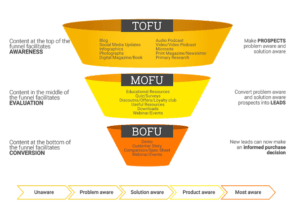 Another perplexing assumption around the topic of SaaS content marketing is relying solely on top of funnel content. This needs to be corrected; SaaS content is more concentrated at the bottom of the funnel because we want our users to invest in monthly or yearly subscriptions rather than a one-time payment.
Top of funnel material is typically aimed at beginners who are just getting acquainted with the SaaS market and determining what they want.
When we progress to the bottom of funnel content, this is usually where SaaS content comes in. Therefore, we actively strive to create SaaS material that carefully captures the attention of our clients.
Finally, the bottom of the funnel audience is well aware of your SaaS product, and you may actively target specific pain points of your audience via your SaaS SEO content. Understanding the multi-funnel strategy allows you to produce clients at all SaaS service phases and increase software demand.
5. Enhance Readability
If something doesn't look good to the eye, we often hesitate to even try it out. However, when promoting your SaaS product, your SaaS SEO content serves as the frosting on the cake.  If your SaaS content is presented in a difficult-to-read and rough layout, your reader will likely need to read it all through.
If you want your reader to stay indulged in your content, it's high time you focus on content creation that suffices the need for SaaS content marketing while being easy to read. Therefore, we recommend that you work on making your SaaS content concise and informative.
What we suggest is that you add interesting facts to keep the reader interested. Along with this, it is very important to maintain a reading flow for your writers, so that they go through the whole long-form blog. 
To improve your SaaS SEO content readability, try to break down your text into small paragraphs written in a uniform font. You should also avoid stuffing your keywords so much that they look forced.
6. Stay Relevant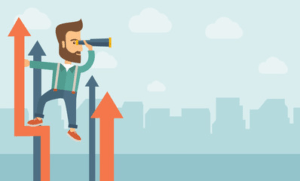 If you are a digital marketing company like us or just a SaaS company that wants to uplift its brand image, you must always write content related to your target audience. 
It's vital that your audience feels connected to you, especially in SaaS content marketing. SaaS content is mainly focused on creating long-term connections with the users, so it's good that your content resonates with their values. 
If you try to add extra junk to your blogs, you may bore your readers, and they will move on to the next big thing. The SaaS market is booming at an exponential rate, as we speak, more than 15,000 SaaS companies are operating in the US currently. If you don't market your product with relevant SaaS SEO content, you could be run down by your competitors. 
An evergreen SaaS SEO content that covers all possible queries and innovative SaaS strategies can help you stay relevant in this booming SaaS market for a long time. 
7. Attractive Layout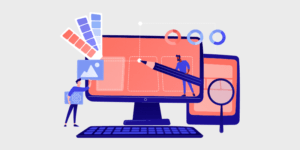 SaaS SEO content is not only about writing; it's also about visuals. Using the right images that go well with your SaaS content is also essential, as it will attract your user to read your content piece. 
Did you know that your images can also enhance the search engine optimization of your SaaS product or service?  Yes, you heard that right. Alt text, or "alternate text," is often used to describe the image. It's only sometimes visible, but it plays a great role in search engine optimization.
To increase your search engine ranking, include latent semantic keywords or primary keywords in your alt text. This way, in addition to enticing SaaS SEO content, you can include eye-catching pictures on your SaaS content, making client visits to your SaaS company website more memorable.
8. SaaS Content Marketing
SaaS content is not only limited to writing articles or guest blogs; it's also about your social media content and how you can use social media to boost your SaaS brand. Social media platforms are key when it comes to skyrocketing your website traffic. 
You can create top of funnel content that attracts your audience on social media platforms to visit your websites. You can also go for email marketing and influencer marketing to create buzz about your SaaS product with catchy SaaS SEO content and enhance your lead conversion rate. 
9. Build a Solid Team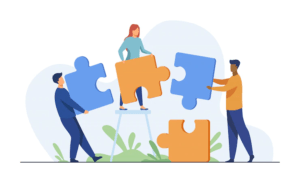 When it comes to SaaS content marketing, it's not a piece of cake. As we mentioned above, SaaS SEO content writing is quite different as compared to copywriting. It is necessary that your team consist of SaaS content writers who have a good grip on the various topics associated with SaaS content writing. 
Moreover, with a good SaaS SEO content writer on board, you can carefully craft to-the-point content that resolves all the pain points of your target audience. Unfortunately, many companies try to recruit freelance writers without any background checks. Therefore, it is important that you only hire writers who have good experience producing strategic SaaS content. 
10. Detailed and Insightful Content
Your main aim is to indulge your writer in your blog post. Therefore, you must produce meaningful content that is enriched with information. The best example of insightful content is long-form content such as blogs.
On-page blogs are the most popular audience attraction because they provide direct insights about your software or product. SaaS content blogs are detailed yet straightforward, allowing you to target a specific audience and address their questions. Long-form content is usually over a thousand words and covers almost everything related to SaaS products. 
The TakeAway Message
To sum up, you now know that if you want to specifically target any niche or audience with cumulative interests, you need to focus on targeted content creation. Being the owner of a SaaS company, you may want to enhance your brand's market value, and with the right SaaS content marketing, you can do that in no time. 
Stratigia has been working with various SaaS businesses to provide them with outstanding SaaS content services. Moreover, if you also want to drive a good load of web traffic to your SaaS company website, we suggest you go for our SaaS content and SaaS SEO services.