Ever since the pandemic, people have found that they can work from home more productively. This has changed many companies' working environments globally, which is why the need for software as a service (SaaS) is adapted more. As a result, the SaaS industry will only grow in the coming years.
Technology saves time, and SaaS is doing an excellent job of making people tech-savvy and making their time worthwhile. SaaS can make any company stand out; marketing is the first thing every enterprise should prioritize. Challenges increase when massive competition in the industry and SaaS makes things easier.
SaaS companies are here to stay. The latest stats show that the SaaS market has increased to 146 billion U.S. dollars. Therefore, the increasing number of SaaS companies need the appropriate SaaS social media marketing agencies to market their SaaS product on a greater level. 
Let us explore some of the top SaaS social media marketing agencies you'll want to know more about.
1. Bay Leaf Digital
If you want to increase your ROI within a few months, then you'll love working with Bay Leaf Digital. It is a company for those who see prompt results – the good news is that this company works on result-driven strategies. As a result, your company will be treated with top-grade digital marketing and advertising solutions, making your business stand out.
This company has the potential to give good competition to the best SaaS social media marketing agencies out there. The reason is that they provide SaaS marketing automation that makes visitors compelled to hire your company. The company has also won many awards for doing an exceptional job.
Features 
SaaS website maintenance

SaaS PPC

SaaS retargeting services

Saas marketing analytics

SaaS HubSpot management

SaaS SEO strategy

SaaS marketing automation

SaaS content marketing

SaaS social media marketing
Top Features
1. SaaS Content Marketing
If you are looking to grow your B2B business then put a lot of informational content on your website. SaaS content marketing is among the most important services when it comes to increasing your customers. If you want your SaaS content to reach millions, leave this job to Bay Leaf Digital.
2. SaaS Social Media Marketing
Social media has made the world smaller than ever. You can become the monthly trend by letting Bay Lead Digital do social media marketing. They will provide you with a social media marketing roadmap that shows success points throughout the marketing journey.
3. SaaS Marketing Analytics
Businesses breathe on analytics. The right analytics show your target audience, peak time, geography, most searched content, keywords, and other inclusive things. This will allow you to make a business strategy accordingly. 
Pricing
To get a quote, talk to the company's experts about your next project.
Conclusion
This company touches all marketing and advertising points to ensure that your business is directed toward success at every stage. The company can help you regain lost audiences with its SaaS PPC and retargeting solutions and services. You can also use Bay Leaf Digital's SEO resources to achieve better results. 
2. Hey Digital
Consider Hey Digital as one of the top SaaS social media marketing agencies that will market your product to success. A well-designed website can convert a one-time customer into a recurring one; Hey Digital can assist you in making one of the best websites you have ever seen.
This company can leave your competitors in awe because they bring personalized social media marketing strategies. Hey Digital believes in engaging with your customers on emotional terms, which is why they provide the feature of video ad campaigns. This will surely organically increase your traffic.
Features 
PPC agency

Landing page design

Ad creative agency

Video ad agency

Empowered funnel campaigns

Strategy consulting

Growth consulting

SaaS-specific services

Paid search services

Real-time reporting dashboard
Top Features
1. PPC Agency
Hey Digital ensures a PPC pipeline for your specific business marketing needs. This will guarantee organic growth and customer retention. The company has a team of dedicated in-house teams that present a solid PPC marketing plan.
2. Ad Creative Agency
There is a whole science and philosophy behind what makes an ad clickable. You don't need this on your plate. Hey Digital will refresh old ads and campaigns to alert old customers that there is more to your business.
3. Landing Page Design
Designing the perfect landing page that turns visitors into customers is tough work. Business experts have turned to psychology about what makes a person like a website's landing page. You can leave these worries to Hey Digital and they will come up with the best-ever landing page.
Pricing
You can discuss your goals with the company to get a quote.
Conclusion
With Hey Digital, you get to work with top-class SaaS marketing experts who know how to bring in more reach. The company provides you with a full report on how well the campaigns are doing for your business. In addition, the company vows to deliver actual results that increase your business's ROI.
3. Metric Theory
You can pause your search for the best SaaS social media marketing agencies because Metric Theory may have it all. This company has been working with some big names, so you already have a success rate guarantee. This agency improves your current marketing strategy, and also provides tailored SaaS solutions that fit best for your business.
Metric Theory is suitable for those companies that deal with retail, e-commerce, B2B, user acquisition, and even new startups. This company is especially recommended for small and new businesses that want affordable but budget-friendly software-as-a-service. The company's specialty also includes SEO solutions.
Features 
Product feed management

Shopping ads

Amazon advertising

Ecommerce services

Video advertising

Video remarketing

Keyword research and targeting

Mobile app advertising

Shoppable YouTube

Facebook video ads
Top Features
1. Amazon Advertising
When people were restricted from leaving their homes, Amazon was the only and most trustable online shopping place. Some people do a lot of business by promoting their products via Amazon. You can do the same by opting for Amazon advertising services by Metric Theory.
2. Facebook Video Ads
The world is slowly shifting towards video ads and dissing written content. Making the smallest video with a lot of information can be the most challenging task in the world. Metric Theory has the experts and the skills to make such videos to get more engagement on your Facebook page.
3. Mobile App Advertising
People now don't want to open a website and look for assisted experts – they want to self-service their way into everything. This is why apps have provided what people need. If you have a business app, allow Metric Theory to make it downloadable.
Pricing
Acquire a customized quote for the services you need for your business.
Conclusion
The company has a pool of marketing experts who instantly know the best digital marketing strategies. Metric Theory makes a complete analysis of your company and then suggests the best conversion optimization game plan. This company is recommended to those entrepreneurs who want to start an ecommerce business over Amazon. 
4. NoGood
Don't be fooled by the name, but NoGood usually gets a shoutout for the best SaaS social media marketing agencies. We voted for them too, because they instigate marketing strategies that are very impactful and under budget. In addition, you can fully trust them as they are partnered with Google, Microsoft, Facebook, and other big sharks.
Even though SMS marketing is old-fashioned, NoGood makes the best use of it. The company combines data-driven and purpose-driven marketing strategies that make the journey to success easy.
Features 
PPC

SEM

SMS marketing

CRO

Email marketing

Social ads

SEO

Video marketing

Performance branding

Content marketing
Top Features
1. SEO
SEO is the basis and foundation of any business. Businesses are recommended to construct an SEO strategy before launching it. With NoGood, you can work on other things and leave SEO strategizing, implementation, and results to them.
2. Social Ads
People rely on seeing is believing, and if you want people to trust your brand, invest in social ads. Updating your social media pages with eye-catching social ads will attract more customers. NoGood is recommended for the job.
3. Video Marketing
If you have somehow managed to make the best video for your website, YouTube channel, or social media pages and it is not getting much reach – let NoGood take care of it. They will ensure that your video is getting more views organically.
Pricing
You can get a customized quote for your marketing needs.
Conclusion
The company gets as far as possible to check all the boxes of your marketing requirements. NoGood works with companies that deal with crypto, healthcare, fintech, and many others, so no matter what you deal with, they'll handle it. 
5. Wallaroo Media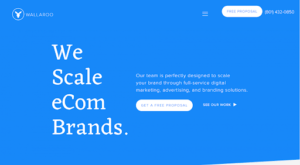 We had to include Wallaroo Media in the index of best SaaS social media marketing agencies because they are full-service branding and marketing agencies. Even though the company follows simple growth steps, they somehow manage to take your business to the top. Moreover, the traffic you start getting on your SaaS website is entirely organic.
The company meets your goals, starting with designing, writing, analysis, management, and doing SEO. Wallaroo Media has more to offer; we suggest you check more about them. To pitch you in, the company is good at providing the best ideas for social media advertising.
Features 
Content marketing

SEO

Public relations

Digital marketing management

Marketing analysis

Content writing

SMM

Ad design

Pad advertising

Campaign development
Top Features
1. Content Writing
You might have some excellent ideas about putting content on your website, but sometimes, it becomes difficult to put it into words that matter. Wallaroo Media has a pool of creative writers who will make people read through the content.
2. Social Media Marketing
Social media presence has a powerful impact. If you want more people recommending your business, hit social media platforms. Managing different social media accounts can be daunting and challenging for you. Thereby, you can leave this stressful work to Wallaroo Media.
3. Paid Advertising
Sometimes, businesses need a huge jumpstart that cannot be done with traditional digital marketing. This is why Wallaroo Media brings the best paid advertising solutions that will make you talk of the town.
Pricing
Contact the company to get a customized quote for the required services.
Conclusion
This company is suggested for new startups and small businesses who want an uproaring presence on social media. The company specializes in social media management in every way you can think of. Their simple approach leads to an increase in ROI, more reach, and more engagement.
6. Single Grain
If your large enterprise has been searching for the best SaaS social media marketing agencies, you'll want to work with Single Grain. You can say that the company is home to providing customized marketing solutions to every large company that wants to grow more.
The company does constant optimization from the first day to the end of your contract – making a self-repeated SEO cycle for your SaaS website. Single Grain combines the powers of SEO and CRO, which results in better ranking and SERPs. The company ushers innovative marketing ideas that allow you to scale faster than before. 
Features
Content marketing

Paid advertising

Crypto marketing 

NFT marketing

Ecommerce services

CRO

Marketing training

Facebook advertising

SEO

Conversion rate optimization
Top Features
1. Facebook Advertising
This is for sure that if any business or individual wants to become a news headline, they should hit it on Facebook. Facebook has made people and businesses popular within days. SingleGrain has the best ideas and the ways to make you a trend.
2. NFT Marketing
This is something that no company is providing and this feature will make SingleGrain beat many competitors of this list. With the right marketing strategy, any NFT can change the course of trends.
3. SEO
SEO done right can benefit in a million ways. SEO takes time and effort – you can let SingleGrain take care of it while you manage other business operations. The company provides unique SEO strategies that will actually work.
Pricing
Get a customized quote from the company for the required services.
Conclusion
The company will involve you in every step of making your company surpass the competition. Single Grain can make your SaaS product into a minting machine. The company is constantly updated with new marketing technologies that can advantage your business in the long run.
The TakeAway
SaaS social media marketing agencies play a pivotal role in augmenting the growth of your SaaS business. Whether it is increased visitors, better ROI, you have the chance to make a fortune by opting for the best SaaS social media marketing agency to advertise your SaaS project. 
Stratigia is an all-inclusive SaaS marketing agency that helps you to achieve better results for your SaaS business. We will help to increase the number of visitors on your website and provide scalable marketing strategies to augment the growth of your SaaS business. Get started now and take your SaaS business to the next level.